"Charlie Bartlett" came and went pretty quickly in theaters recently and was such a contrived stab at the "alienated youth" genre that it made me think of the countless films that cover this territory much more convincingly. I liked the angle of the new "self-overmedication" problem that seems to have sprung up, but "Charlie Bartlett" wanted too much to be "Harold and Maude"-lite. Speaking of that iconic Hal Ashby film, it's not on this list. Neither are any number of great French or Japanese movies that revolve around alienated youth. I just didn't have the space—a list for another time maybe. "Heathers," "Ghost World," and "Donnie Darko" just barely missed the list too because I write about them a lot and didn't feel like it again; great movies, all of them, just not on this list. There was definitely no room at the inn for Francis Ford Coppola's rose-colored movie adaptation of S.E. Hinton's "The Outsiders," a movie people remember fondly with nostalgia but is about as hardcore as Winnie the Pooh. In my own stupid way, I even managed to fit 12 on a list of 10, so I'm still trying to maximize potential. Let me know what you think I've missed and enjoy!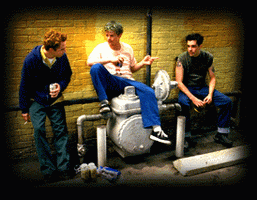 10. Suburbia (1984) and SubUrbia (1996)
Penelope Spheeris' minimalistic, 1984 slice-of-reality film was about a bunch of punk rockers who called themselves The Rejected and squatted in a bunch of condemned suburban homes. (It also starred a young Flea from the Red Hot Chili Peppers.) While 95 minutes may have been even too long for this film with its amateur actors and lazy plot, it's an interesting window into an estranged youth culture that looks a lot different nowadays. The lack of a budget and footage of real punk bands the Vandals, D.I., and T.S.O.L. add to its realism. Her "Surburbia" is far different from Richard Linklater's completely different movie with the same name that was released in 1996. Based on Eric Bogosian's stage play, it is a wordy affair, with Parker Posey, Steve Zahn, Giovanni Ribisi, and Nicky Katt at a convenience store, waxing philosophical about why they haven't been able to leave Burnfield, Texas. I know/knew/is/am these people, so a lot of this rings true for me. While not always on the mark, the movie hits more than it misses and establishes a constant sense of alienation and frustration as the alternative to "selling out." Either way, you lose—cheers! From Linklater's movie:
Jeff: What are you saying?
Sooze: I don't know. And I don't care that I don't know.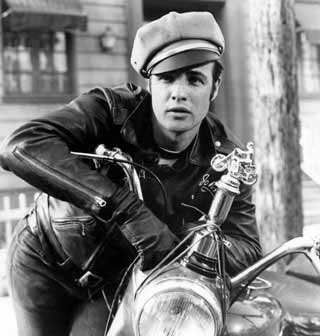 9. The Wild One (1953)
"What are you rebelling against?"
"Whadd'ya got?"
So goes the famous reply from Marlon Brando, leader of the Black Rebels Motorcycle Club (yes, that's where the band got their name) in this low budget classic. The key to this film is understanding that a different moral code doesn't mean a lack of a moral code. Johnny (badass Brando) and Chino (badass Lee Marvin) may enjoy terrorizing the small town they've come to, but just like everybody else, they want to belong to something. It just so happens a motorcycle gang is it. One of the first serious challenges to adult authority in mainstream film, this movie appeared two years before "Rebel Without a Cause."
Johnny: Nobody tells me what to do. You keep needlin' me, if I want to, I'm gonna take this joint apart and you're not gonna know what hit you.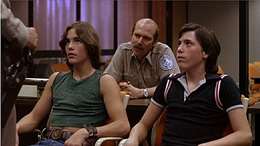 8. Over the Edge (1979)
Tomorrow's city…today! I saw this movie on HBO at a friend's house when I was a kid, and there seems to be much debate over whether it actually got any kind of theatrical release at all. I do know it was pulled from theaters due to its controversial nature. Set in a planned community near Denver, it's a reaction to the massive amounts of suburban development that was happening in the late 1970s. Besides having a kick ass soundtrack full of Cheap Trick, Van Halen and the Ramones' wholly appropriate "Teenage Lobotomy," it depicts the listless lives of bored teenagers whose parents never considered them when building the "perfect community." Rather than try to focus on why their kids are turning to petty crimes and drugs, the parents just focus on punishing them. Matt Dillon made his debut in this movie, which was based on a real-life school uprising incident in Foster City, Ca.
Richie: A kid who tells on another kid is a dead kid!
7. East of Eden and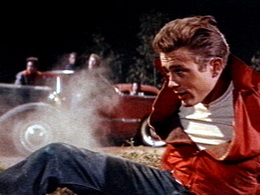 Rebel Without a Cause (1955)
Elia Kazan's "East of Eden" cast a young method actor named James Dean as embittered youth Cal Trask. Although the movie was set during World War I in 1917, the rift between Dean and his father, played by Raymond Massey, is characterized by Los Angeles Time critic Kenneth Turan as "the paradigmatic generational conflict in all of American film." That same year "Rebel" exposed that rift in the present-day setting. Nicholas Ray's classic portrayed Dean's Jim Stark as the victim of deep misunderstandings with his parents. The teenage delinquent in this movie also happened to be the hero and seeing things from his point of view helped young kids everywhere identify with Dean (his untimely death would turn him into a cultural icon), while also demystifying and romanticizing the "bad boy" persona. From "Rebel":
Frank Stark: You'll learn. When you're older Jim.
Jim Stark: Well, I don't think that I want to learn that way.
Mrs. Carol Stark: Well it doesn't matter anyway, because we're moving.
Jim Stark: [Grabs his mother] You're not going to tear me loose again.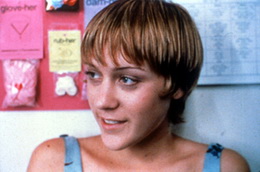 6. Kids (1995)
Forty years after "Rebel Without a Cause," parenting skills haven't gotten any better, and the kids are most definitely not alright. That a movie about teenagers could come with a rating from the MPAA (NC-17) that didn't allow any of its subjects to see it in a theater was especially ironic. Larry Clark's shocking neo-realist movie, populated almost entirely by teens, was written by an 18 year-old Harmony Korine, who would later go on to depict more low-budget squalor in "Gummo" and "Julien Donkey-Boy." The teenagers in "Kids," including Chloe Sevingny and Rosario Dawson, are the least shocked of anybody, as they have sex, inhale nitrus oxide, skate, and smoke pot all day. One teen lothario is intent on having sex with as many virgins as possible, despite the fact that he is HIV positive. All of this behavior is treated as nothing new. It was the new urban disaffection, coupled with the as-a-matter-of-factness that could only come from somebody who witnessed it firsthand.
Kim: So this is your new girl, huh?
Telly: I hope so. For now.
Kim: You like 'em kinda young, right? Babies?
Telly: I like 'em new. Not like you.
5. Easy Rider (1969)
Having befriended James Dean during "Rebel Without a Cause," Dennis Hopper fancied himself his own kind of rebel. In 1968, his drug-fueled paranoia was in full swing, and an ill-advised, poorly planned LSD trip during a New Orleans Mardi Gras became the first scene shot of this counterculture classic. Somehow, the movie, which started out as a vague idea, was actually finished. Alongside Peter Fonda, Hopper put onscreen the prevailing hippie culture—people who were so alienated by the uptight modern values of American society that they went in search of their own. Of course, you can't fully commit to peace without a lot of hate getting in your way, and this movie visualized in a very literal way something that the rest of the country didn't really know existed. The film ends with a pair of confrontational blasts that drew the lines very clearly in the sand between "us and them."
Billy: We did it, man. We did it, we did it. We're rich, man. We're retirin' in Florida now, mister.
Captain America: You know Billy, we blew it.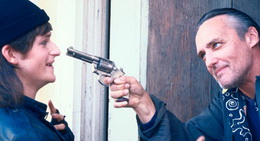 4. River's Edge (1986)
What is more disturbing: when teenagers kill, or when they all choose to protect someone who has killed one of their friends? The teenagers depicted in this movie, directed by Tim Hunter (who wrote "Over the Edge" and went on to direct several episodes of "Twin Peaks"), live in poverty, do drugs, and have no stable home lives whatsoever. Alienation is a reason for one character to kill his girlfriend, and the answer to why the rest of a small circle of friends would stay quiet about it. Crispin Glover pours massive amounts of peer pressure on Keanu Reeves and Ione Skye (drop your preconceived notions—they're really effective), while Reeves' younger brother (a scarily real Joshua Miller) grows a chip on his shoulder the size of rural California, where a real event like this actually took place. Dennis Hopper is a drug-dealing lunatic with a blow-up doll for a friend, so you know the movie is morally void when he is one of the only voices of reason.
Layne: This is like some fuckin' movie. Friends since second grade, fuckin' like this (crosses fingers) and then one of us gets himself in potentially big trouble, and now we've gotta deal with it; we've got to test our loyalty against all odds. It's kind of… exciting. I feel like… Chuck Norris, y'know?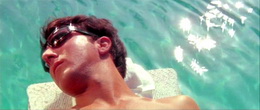 3. The Graduate (1967)
Robert Redford was originally considered for the role of Benjamin Braddock, but director Mike Nichols asked the handsome young actor if he ever had a problem picking up girls. "What do you mean?" was Redford's reply, so Nichols made the character Jewish and cast New York actor Dustin Hoffman in the role that changed his career. Benjamin has everybody pulling him a million different ways, but chooses to lie on his back in a swimming pool, essentially drowning in his own ennui. He finally finds something to care about, but only after he's told not to. The daughter of the older married woman he's been sleeping with may or may not be the one for him, but by the end, Nichols suggests that this impassioned choice, his first of the entire film, may be as ambivalent as all the rest.
Elaine: Good night.
Benjamin: Are we getting married tomorrow?
Elaine: No…
Benjamin: Day after tomorrow?
Elaine: I don't know. Maybe we are, and maybe we're not.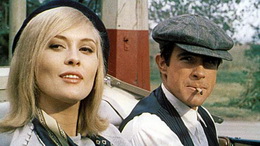 2. Bonnie and Clyde (1967)
Inspired by Truffaut, Godard, and the rest of the French New Wave, screenwriters Robert Benton and David Newman took a couple of Depression-era folk heroes and turned them into counterculture icons. The bored, thrill-seeking outlaws played by Warren Beatty and Faye Dunaway weren't mastermind criminals by any means. Instead, Bonnie and Clyde spoke to the antiwar generation and, as Benton suggested in Peter Biskind's "Easy Riders, Raging Bulls," "The thing about them that made them so appealing and relevant was that they were aesthetic revolutionaries. In our view what killed Bonnie and Clyde is not that they broke the law—but that they put a tattoo on C.W. Moss. His father says 'I can't believe you let these people put pictures on your skin.' This is what the '60s turned out to be about."
Bonnie Parker: I don't have no mama. No family either.
Clyde Barrow: Hey, I'm your family.
Bonnie Parker: You know what, when we started out, I thought we was really goin' somewhere. This is it. We're just goin', huh?
Clyde Barrow: I love you.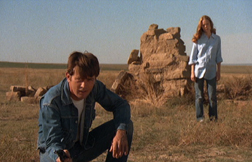 1. Badlands (1973)
Loosely based on a true story and set four years after James Dean's death, Terrence Malick's beautifully shot, unsettling movie features a protagonist so detached that he could kill (or not kill) at any given moment, depending upon mood what strikes him. Martin Sheen is the Dean-wannabe without a clue who doesn't so much sweep a young Sissy Spacek off her feet as he does kill her Dad and set their house on fire. This movie set the Malick template for internal monologues and juxtaposing imagery. Spacek's clueless, baton-twirling Holly proclaims love for Sheen's Kit and all his fake bravado in opulent romance-novel voiceovers. The couple's dispassionate behavior, however, proves that feeling much of anything is pretty impossible for either of them. The two set off on an aimless and stupid killing spree that deflates any thought of these two characters ever becoming anti-heroes.
Holly Sargis: He needed me now more than ever, but something had come between us. I'd stopped even paying attention to him. Instead I sat in the car and read a map and spelled out entire sentences with my tongue on the roof of mouth where nobody could read them.