After part one of the worst in Christmas movies, sitegoer Will Dawson is back with 10 more of the worst Christmas movies ever. If you have a list you'd like to contribute, email me at eric@scene-stealers.com. Here's Will:
Hello Scene-Stealers! It turns out that I left off a whole slew of movies in the initial top 10 worst Christmas movies of all-time list, so I'm back to rectify the situation by creating a whole other list of top 10 worst Christmas/holiday movies pt. 2. Basically, the films on this had to incorporate the late December holiday theme and be truly awful. Also, any and all Lifetime/Family Channel movies have been purposefully left off along with any animated specials (those could basically constitute another list altogether).
Before we begin however, I would like to rescind my position on It's A Wonderful Life being one of the worst Xmas movies of all time in the original Top 10 Worst Christmas Movies Ever list. The truth is although I believe the film to be overtly sappy and overrated, it is a good Xmas movie and I can understand the appeal it has for people. Now, time for some really bad Xmas/Holiday movies….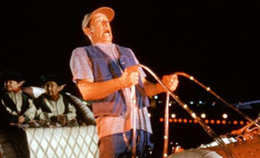 10. Ernest Saves Christmas (1989)
OK, now here is a real stinker. I understand a lot of people have a ton of love for the Ernest series, and they do have their moments, but Ernest Saves Christmas is definitely no Ernest Goes to Jail. Basically Ernest (played by Jim Varney) ends up meeting Santa and the two form a bond to help Santa save Christmas, so to speak. The plot is horribly predictable (just like every other Ernest movie); and all the gags fall flat, making the film only watchable to those with Christmas cheer or just giant Ernest fans. (There is such a thing, I'm told.)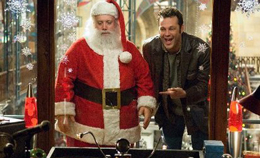 9. Fred Claus (2008)
On last year's list, I took offense to Ben Affleck having so many damn Christmas movies on a top 10 list, but it turns out that Mr. Affleck has nothing on Vince Vaughn with regard to bad Christmas movies (more of which will appear later). How this wretched film attracted the likes of Paul Giamatti, Kevin Spacey, Rachel Weisz, Miranda Richardson and Elizabeth Banks is beyond me. The film is about how Fred Claus (Vaughn) is Santa's brother and how he resents the fact that Santa is more popular than him, how he wants to ruin Santa's plans, and blah blah blah. Eventually he learns the true meaning of Christmas and family (from such notable B-Grade brothers as Roger Clinton, Stephen Baldwin and Frank Stallone), but not before hilarity ensues with Santa! Ho Ho Ho? No No No!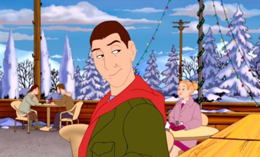 8. Eight Crazy Nights (2002)
After receiving so many comments about this movie on the original top 10 list, I figured I had to include it, if not for the fact that the movie is so blatantly bad on so many levels. This animated film is essentially Adam Sandler being Adam Sandler and managing to insult the intelligence of every single filmgoer who watches the movie. The fact that it takes place during Hanukkah makes the film even worse, because you have the obligatory Jewish and Nativity jokes thrown in for cheap laughs. Only watch this if you want to just act stupid, although the results may be damaging.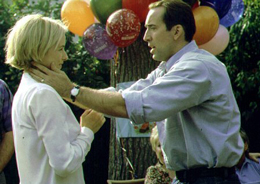 7. The Family Man (2000)
This movie, which is a rip-off of It's A Wonderful Life, finds Nicolas Cage as a high-powered executive who in ends up living in an alternate universe with his ex-girlfriend and imagining what life would have been like if he hadn't become a high-powered executive. The movie tries to work as a sentimental life lesson about love, hope, and Christmas, but really just falls flat due to the predictable plot and Cage's overacting. Poor Don Cheadle has the worst of it: He has to be the spirit to guide Cage in the alternate universe and has to act alongside him.
6. Santa Claus (1959)
This Mexican made "classic" is similar to Santa Claus Conquers The Martians in terms of story and production value. Basically, this version has Santa living on the moon and battling Lucifer for Christmas supremacy! Like its counterpart, this was made into a pretty good Mystery Science Theater 3000 episode, but is unbearable to watch on its own. (Editor's note: This actually sounds amazing.)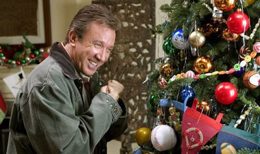 5. Christmas With The Kranks (2004)
Like Vince Vaughn and Ben Affleck, Tim Allen is another man who should just stay away from Christmas movies. In this film, based upon the John Grisham novel Skipping Christmas, the Krank couple (Tim Allen and Jamie Lee Curtis) decides to skip Christmas and not participate in any yuletide cheer. This makes the neighbors, led by Dan Aykroyd, very upset. The plot is already contrived for two reasons: 1. Why do you care if your neighbors skip Christmas, does it really matter? And for number 2, see number 1. Eventually, the Kranks realize that they shouldn't skip Christmas because Christmas is awesome or something along those lines. Ugh.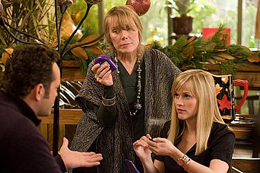 4. Four Christmases (2008)
The other Vince Vaughn film on our list, Four Christmases deals with a couple (Vaughn and a terribly miscast Reese Witherspoon) who end up having to spend four Christmases with their obnoxious family members due to the fact that each of them have divorced parents. What I don't understand is that if Vince Vaughn and Reese Witherspoon hate their families so much, why didn't they just stay at home and not go over to their parents' houses? Oh wait, because this ridiculous plot point was essential to the movie. Throughout the day, Vaughn and Witherspoon fall in, out, in, out, and finally in love so many times that you could surely make a drinking game out of it. What's even worse is the tacked-on happy ending which ruins any point the film may have said about surviving through family and just going through the depressing motions of Christmas because we all gotta go through it eventually.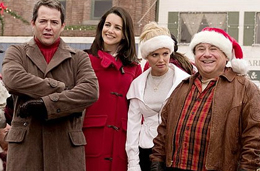 3. Deck The Halls (2006)
Holy Crap! A Christmas movie with Danny Devito and Matthew Broderick! This can't be that bad…..can it? Unfortunately for all those involved, Deck The Halls is a terrible disaster that is just a bad movie in every sense of the world. Devito and Broderick play warring neighbors battling for Christmas house-lighting supremacy, but instead of using these actors' talents to make the film funny, the movie's laughs and plot points fail on every level trying to teach the characters and its audience about the true meaning of Christmas. Because this is about the 1,000th time I've typed "True Meaning of Christmas" into both of these top 10 lists, I propose a ban on any Christmas film forcing its characters or audience learning about the true meaning of Christmas. Now who's with me?!
2. The Santa Clause 2 (2002) and The Santa Clause 3: The Escape Clause (2006)
I just want to write "These movies should burn in hell", but that's too damn easy. I know I am cheating putting two films on one spot, but since they are both equally bad, I really couldn't choose. Tim Allen deserves to be arrested for these disasters to ensure that he will never play Santa again. What's worse is that these sequels didn't even have to be made, but are instead were a stupid cash-in (Is there ever another kind of Christmas movie these days?) by Disney to take more money from people. The Santa Clause 2 is basically Tim Allen searching for a Mrs. Claus and The Santa Clause 3 involves a scary Martin Short as Jack Frost trying to take over Christmas (Seriously, looking at him freaks me out). I do know that these movies are made for children, but still the original The Santa Clause was a halfway decent Christmas movie and it didn't need these sequels. Damn you, Disney! What's even worse is that these aren't even the worst Christmas movies on our list, for that we have to go to this …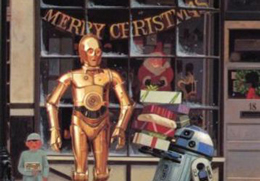 1. The Star Wars Holiday Special (1978)
Alright, I know that this wasn't released in theaters, but since Star Wars is a cinematic entity and it's my list, I hold every right to put this infamous classic at the top spot. For those don't know, the original Star Wars was a huge phenomenon with Star Wars everything showing up in the years of 1977-78. George Lucas, being the obsessed money man that he is, saw the cash on the wall and decided to create this Christmas special that featured such '70s stalwarts as Art Carney, Bea Arthur (who dances in the Mos Eisley Cantina) Harvey Korman, and Jefferson Starship (!)
Not even the "talents" of these artists could save the special, which is such a big disaster that Lucas supposedly tried to bury every copy of the film and refuses to acknowledge its existence. The "plot" concerns Han and Chewie trying to make it home to the Wookie celebration of Life Day. In the show, we even meet Chewbacca's family: Malla (his wife), Itchy (his dad), and Lumpy (his son). One of the hallmarks of the film is the introduction of Boba Fett, and Itchy looking at human porn — but beyond that, the special has to be one of the worst holiday films ever made (even though it is probably the fourth best film in the Star Wars Saga, beating out all the prequels). And on that note, Happy Life Day to you all! Watch it below … if you dare.