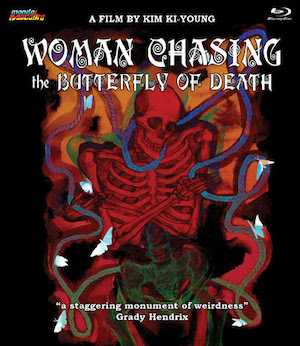 [Rating: Solid Rock Fist Up]
For the last few years, reissue company Mondo Macabro has dipped heavily into European explitation cinema, releasing the likes of Bloodlust, a Greek double feature of The Wild Pussycat and The Deserter, The Devil's Nightmare, and Lucio Fulci's Perversion Story, among others. While the psycho-sexual discomfort of these films has been well-served by Mondo Macabro's Blu-rays, packed with bonus content and brand-new HD transfers, fans who've long appreciated the company's ability to bring Asian films such as Snake Sisters, Queen of Black Magic, and Mystics in Bali have been underserved.

That all changed with what might be the most phantasmagorical release I've seen in years, South Korean director Kim Ki-young's 1978 film, Woman Chasing the Butterfly of Death.

"After a young man survives being poisoned by a girl at a picnic he falls into a deep, suicidal depression. But standing in the way of his desire to kill himself is a Nietzschean bookseller who refuses to die even though he's killed several times, an ancient mummy who is revived in the form of a beautiful woman who happens to be a cannibal, and an insane anthropologist who wants to keep his daughter alive by getting her laid. And also, of course, butterflies."

As the copy on the back of the Blu-ray says, the movie is "[a]lmost impossible to summarize" but "nevertheless insanely enjoyable. A real one-of-a-kind production that opens our eyes to the limitless possibilities of cinema." That above plot summary doesn't even begin to explain just how mad Kim's film really is. Watching it unfold onscreen is as close as I've gotten to true insanity in a long while, but it's not like the director just threw things at the screen to see what would stick.

The plot progresses forward with some kind of logic, but it's the sort of logic which makes perfect sense as you're watching the film, but utterly falls apart when attempting to describe it to anyone else. It definitely is a sort of waking dream, wherein that Nietzschean bookseller keeps getting killed by the film's protagonist, Young-gul (Kim Jeong-cheol), only to repeatedly come back to life, even after being burned. The bookseller's skeleton shouts to the student that he can live through sheer will alone: "The will to live is sacred. When will you realize this?"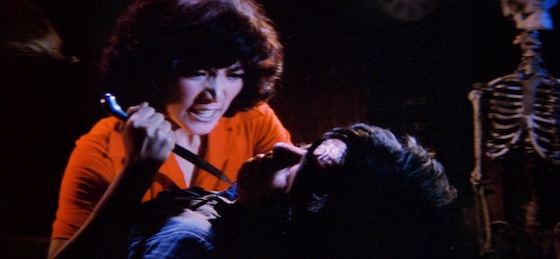 This is after he's already survived a forced suicide pact when he accepts a drink from a young woman he encounters while taking a stroll during a beachfront picnic. She'd spiked the drink given to the young man, because there was a suicide pact, but her partner never showed up, and she didn't want to die alone.

It's an absolutely fascinating story, and the idea of will and mortality winds its way through the entirety of the film. So much of what happens seems to be by predestination, yet the choices made over and over by Young-gul echo back to the prophetic statements made by the bookseller at the beginning of the film. After coming to work for archeologist Professor Lee (Nam Koong Won), Young-gul meets the professor's daughter, Kyungmi (Kim Ja-ok), only to discover that she's the missing partner from that suicide pact.

Kyungmi's persistence at attempting to get him to recreate that pact, as well as repeated attempts by nearly everyone he meets to get Young-gul to do what they say – usually at the possible cost of his life – see this young man, who is absolutely distraught and depressed throughout the film's first half, slowly achieve his own personal willpower. It's hallucinatory, yes, but strangely empowering.

Woman Chasing the Butterfly of Death (also known as A Woman Chasing a Killer Butterfly and Killer Butterfly) has never been released on Blu-ray before, and its debut on the format is arguably the best it'll ever be. The 4K transfer is astonishingly vibrant, with the psychedelic well-represented, while still managing to look pretty good during a scene set deep within a cave. The various interviews with the producer, cinematographer, and one of the film's actresses, all tread similar ground, and get a little tiresome, but combined with historian Darcy Paquet's featurette, "Eleven Questions for Darcy Paquet," presents as complete a biography of director Kim Ki-young as you're likely to find in the West.
While every Mondo Macabro release is worth a peek, this marks the first release from the company since 2018's Who Can Kill a Child? to really earn the "must-own" status.