[Rating: Solid Rock Fist Up]
One of the fundamental pleasures of good storytelling is the thrill of being able to live vicariously through the actions of others. This is especially true when the actions of our main characters are daring or thrilling. We get to experience the rush, but at a safe distance.
Damian Szifron's extraordinarily fun and twisted movie Wild Tales, out on Blu-ray today, and nominated for a best foreign language film Oscar earlier this year, has that feeling — multiplied by six.
Don't let that fact that the movie is from Argentina discourage you at all. This is not a slow-moving, subtle drama about characters in a far-away land or culture that you have to struggle to relate to. It's quite the opposite, in fact.
Each of the six short films that make up Szifron's anthology film are united by a common thread: They feature characters who have some sort of big break with the norms of modern society and actually act on the things that most of us just fantasize about.
Szifron is a commercial director, and he skips what might normally be large amounts of exposition in another movie, cutting straight to the conflict as soon as possible. The first short, titled "Pasternak," unfolds so quickly and ingeniously that it's over before the opening credits even roll. Profiling an unusual encounter on an airplane that may or may not be coincidence, this short has the distinct vibe of a "Twilight Zone" episode but is even more compact in its storytelling. It's the perfect opener because it leaves you wanting more.
Along with his brother Agustín, Spanish filmmaker Pedro Almodóvar produced "Wild Tales," so it's no surprise to find that a streak of subversive humor runs throughout the movie. Each of the short films could be loosely described as revenge tales, but they are really about people who are driven to some sort of brink and then refuse to back away from it.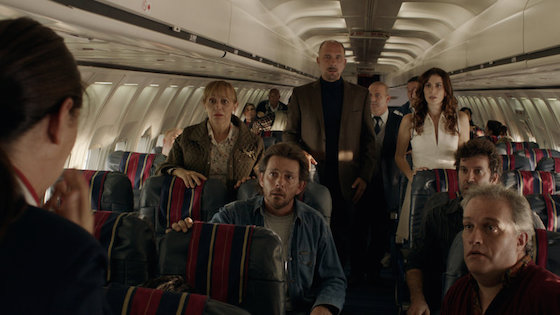 I sincerely hope that Quentin Tarantino, whose obsession with revenge pictures has started to reveal kinks in his armor, has seen Wild Tales. While it embraces elements of the spaghetti western as Tarantino's films do, it also finds new ways to explore them.
When a bride learns of her new husband's cheating ways in "Till Death Do Us Part," it happens during the wedding reception, and her frantic, emotional flailing causes all kinds of hilarious destruction. At the same time, Szifron keeps an underlying tone of sadness throughout the short that gives it surprising dimension.
At the reverse end, but equally entertaining, is the sickly funny class warfare parable "Road to Hell," which — besides having a slick, modern sheen — has the feel of a Tarantino story. It begins as a familiar enough conflict, with a yuppie in an Audi flipping off a truck driver, but when the Audi breaks down, things escalate quickly and absurdly, until all pretense of civilized behavior is gone and only seething rage remains.
Not every story in Wild Tales is evenly matched, and Szifron knows it. That's why the shorts are ordered the way they are, to flag a little when the two-hour running time allows it, and to snap back into place for the thrilling conclusion. The long-term consequences of characters' actions are unevenly distributed, but after all of the cathartic madness, it's a welcome surprise that Wild Tales ends on a note of unexpected poignancy.
Special features on the Wild Tales Blu-ray include:
Wild Shooting: Creating the Film – A behind-the-scenes look at the creation of the Oscar nominated film.
An Evening at the Toronto International Film Festival with Damián Szifron – Writer/Director Damián Szifron participates in a Q & A session at the festival screening of Wild Tales.
This review appears in altered form on the Scene-Stealers blog at Lawrence.com.