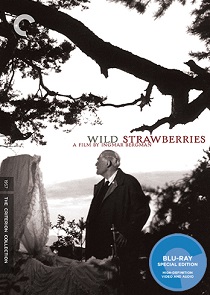 When I first learned about Ingmar Bergman's extraordinary 1957 film Wild Strawberries I was in film school and my class watched a clip — probably the most famous clip from the film. It was the first nightmare sequence where 78-year old Professor Isak Borg (Victor Sjöström) experiences the fear of his own death.
He finds himself forced out of the sunlight, alone on an old-town city street. A foreboding darkness creeps up in successive shots. The hands on a clock are missing. A featureless human being literally falls apart before him. A horse leading a carriage is spooked and takes off. The carriage loses a wheel. A coffin slides out of the carriage, and it is Isak's own body inside, his hand reaching upward. For help. Or to drag the professor into the darkness himself.
The sequence was impressive to be sure, a way of making the surreal connect more emotionally than I had seen with the early works of René Clair, Salvador Dalí, and Luis Buñuel. But the prospect of watching a feature-length film about a stubborn Swedish old man reflecting on his life didn't exactly seem approachable, so I never explored Wild Strawberries in its entirety.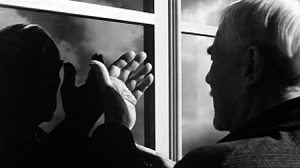 Having just watched Wild Strawberries in its newly restored form on The Criterion Collection's new Blu-ray, I can safely say that I was an idiot not to pursue this film any further.
Yes, the dream sequences are superlative, and the black-and-white cinematography from Gunnar Fischer is gorgeous and expressive, but Bergman's often heralded masterpiece of European cinema is more than a formal delight. It's funny, touching, and very, very emotional.
As Borg travels by car to accept an honorary degree from the storied university of his past, he is confronted with characters and situations that throw his outlook and life choices into sharp focus. The troubled wife of his only son (Ingrid Thulin) and a vivacious young girl (Bibi Andersson) are chief among them, and they cause Borg to slip in and out of his own past. Sometimes the old man is merely observing, and sometimes he's directly interacting in these flashbacks/dreams, but Bergman never wanders from his central conceit, which is to reveal new shades of the professor's character, deepening our emotional investment and his own knowledge of who he used to be.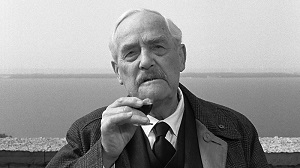 The carriage scene is a direct reference to a groundbreaking early silent movie by Victor Sjöström called The Phantom Carriage. Bergman revered Sjöström's work as a director and certainly the depth of Wild Strawberries was one thing that attracted the elder statesman of film to the project. As the narration to rare b-roll footage shot by Bergman on the set provides, acting in the movie at this advanced age was tough on Sjöström, but his performance is so naturalistic and soulful that its hard to imagine anyone else in the role.
In addition to the on-set footage, Criterion's excellent Blu-ray package also contains film scholar Peter Cowie doing an informative audio commentary, an introduction by Ingmar Bergman, and a feature-length documentary by Jörn Donner called Ingmar Bergman on Life and Work. 
For anyone looking for an easy way into exploring the films of Ingmar Bergman, look no further than Wild Strawberries. There is a good reason is it among the most-loved movies in art-house cinema history, and you don't have to be a film student to appreciate its direct and emotional impact.