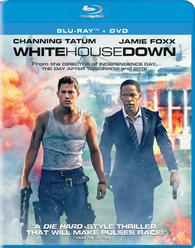 White House Down (2013)
Out on Blu-ray now, White House Down is the second attack-on-the-White-House movie to come out this year, albeit the one with the most star power (Channing Tatum and Jamie Foxx) and a more family-friendly rating (PG-13). Apparently, America likes their exploitative high-concept action pictures more violent and trashy because the R-rated Olympus has Fallen was the more successful of the two (and its also spawned an upcoming sequel, London is Falling).
Both movies are ridiculous but White House Down follows the tried-and-true underdog action hero template, has a dash of humor and character, and isn't as mean-spirited or as trashy as Olympus Has Fallen. Directed by Roland Emmerich (the guy who blew up the White House once before in Independence Day), it has that old-school buddy action vibe, but it falls just short of really working. The actors (Maggie Gyllenhaal and James Woods among them) can't do much with a script that constantly pushes the limits of credulity either.
As far as extras go, there are 12 featurettes that cover — in the briefest, most PR-friendly possible terms — all kinds of tertiary subjects. There's a 5-minute thing about creating the presidential limo, 4 minutes about recreating the White House setting in general, and three minutes about designing the Oval Office — with an emphasis on crashing a car through it, of course. there's also a 6-minute gag reel.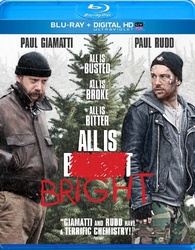 All is Bright (2013)
Out today on Blu-ray, Paul Giamatti plays a thief from Quebec on parole and trying to go straight while Paul Rudd is his old partner in crime and current boyfriend of Giamatti's wife. The hard-luck pair team up to sell Christmas trees from a trailer in New York City in this melancholy holiday tale from indie director Phil Morrison (Junebug).
Morrison films this redemptive story — which thanks to a bumpy screenplay from Melissa James Gibson has a couple hard-to-swallow moments — with a dusty gray palette that suits its characters and masquerades the story's more obvious sentimentality. Or at least that is true until the end, which is an absurd non-ending if there ever was one. Sally Hawkins may have a strange unidentifiable accent but as a maid named Olga to a nearby rich couple, she's one of many ethnicities that make the Manhattan neighborhood interesting. Along with Giamatti, the two form the hard-on-the-outside heart of this film, which also makes the saccharine conclusion even harder to swallow.
I'm always looking for films with a Christmas theme or backdrop that have a little different feel around this time of year, so it will be interesting to see if I ever return to All is Bright, but right now I'm not that eager. The Blu-ray comes with a digital copy, but no extra features.