This review originally appeared in shorter form on KSNT-NBC, KTKA-ABC, and KTMJ-FOX, Kansas First News.
Certified Copy (2011)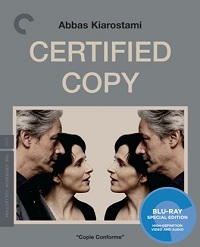 Certified Copy is a fascinating movie from Iranian director Abbas Kiarostami that shows a day in the life of a British writer, played by opera singer/actor William Shimell, and a French antique dealer, played by Oscar-winner Juliette Binoche.
As the title suggests, Kiarostami is playing with the notions of what is real and what is not. In this case, the  relationship at the core of the film is the mysterious object.
The film chronicles their conversation on an afternoon in Tuscany, which is by turns terribly funny and quite dramatic, as they seem to be meeting for the first time. As Certified Copy progresses, however, something else is coming to the surface about their relationship.
Criterion's issue of the movie on Blu-ray and DVD features 1977 Kiarostami film called The Report that deals with similar themes, a new interview with the famed director, and a documentary on the making of Certified Copy.
One of the most acclaimed movies of last year, Certified Copy may have the seeming limitation of being  a conversation by two people in Italy, but it's filled with enough character, drama, and mystery for several films.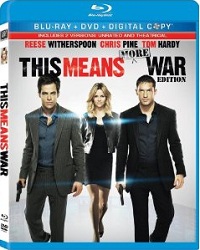 This Means War (2012)
In fact, all of those things are missing completely from This Means War, a contrived and insulting romantic comedy that dares audiences to hate three very appealing actors. Reese Witherspoon, Tom Hardy, and Chris Pine are drowning in a sea of bad dialogue and corny situations made worse by the confidently hollow direction of schlockmeister McG.
Hardy and Pine are CIA agents who endanger their careers and their friendship to illegally spy on Witherspoon and manipulate things to see who can win her heart first.
If that's not creepy enough, the characters continue to debase themselves over and over again and the buddy schtick between the both the guys—and Witherspoon and her best friend—gets old in the first 15 minutes and grating by 30.
Three alternate endings are included, which is always bad news because it means they tried three other times to get it right and still ended up with the stinker of an ending that they have now.
If you see This Means War in the rental store or online, remember This Means Rent Something Else.