This review originally appeared in shorter form on KSNT-NBC, KTKA-ABC, and KTMJ-FOX, Kansas First News.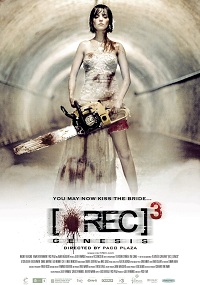 The Spanish series of found-footage-style zombie movies called [REC]—as in the record button on a video camera—have always been a cut above the other horror movies in the found-footage genre.
This week, [REC] 3: Génesis is released in theaters and on Video on Demand, and director Paco Plaza (one half of the duo that did the first two)  drops most of the handheld reality-cam filming techniques and adds in a welcome sense of humor.
This chapter takes place at an upper-crust wedding reception as two joyful families congregate in an enormous Spanish mansion. The sickly sweet tone of the movie is interrupted when the guests become infected with some sort of demonic possession that essentially turns them into zombies.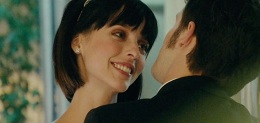 Wedded bliss and saccharine sentiment are mocked throughout the film–although this only becomes more apparent as time goes on. It's played straight for much of the first third of the movie, which makes it an all-the-more cruel joke.
The bride (Leticia Dolera) and groom (Diego Martín) become separated and do ridiculous things to become reunited again in the midst of a bloody, graphic zombie attack. Plaza proves that he doesn't need camera tricks for shocking effect and that he can do it with more traditional film techniques.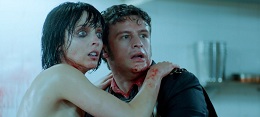 [REC] 3: Genesis is a bit short on original ideas, but at 81 minutes, it's difficult to say that it's too long. Some may feel that the humor betrays the mood of first two movies, and that dropping the reality style was a mistake, but I disagree.
It's just what the [REC] series needed to keep from becoming as stale as the Saw series became.