Check out videos of all my movie reviews on KSNT-NBC, KTKA-ABC, and KTMJ-FOX, Kansas First News.
The movie about the hunt for Osama Bin Laden arrives in theaters today amidst heavy controversy surrounding its depiction of torture by U.S. intelligence operatives. Regardless about what politicians think about Zero Dark Thirty, is it compelling entertainment?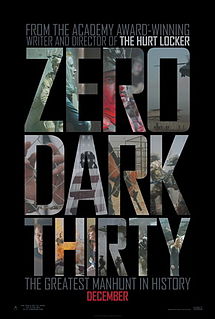 In a word, yes.
Zero Dark Thirty is a remarkable achievement. Oscar-winning screenwriter Mark Boal and Oscar-winning director Kathryn Bigelow (who both won for The Hurt Locker) compress 10 years of U.S. intelligence work into one morally complicated, riveting two-and-a-half-hour suspense drama.
Jessica Chastain plays a young CIA operative who develops a laser-sharp obsession with hunting down the world's most wanted criminal. She grows thick skin and becomes accustomed to enhanced interrogation techniques as lead after lead fizzles out. Eventually, her intelligence and CIA money track a courier to Abbottabad, Pakistan and the most famous raid in modern history ensues.
What makes Zero Dark Thirty such a fascinating film is that it plays both as an engaging procedural thriller and a serious examination of the country's moral compass. It is already doing what great movies do—starting conversation.
Nothing, not even the raid on the compound, is staged like a typical Hollywood film. Zero Dark Thirty won't leave you feeling like the Americans who celebrated in the streets after learning of Bin Laden's death. It will tie your stomach up into knots.