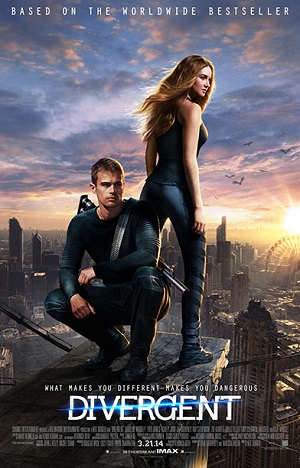 A different version of this article appears at Lawrence.com. Video from KCTV5 It's Your Morning.
Ever since the Harry Potter and Twilight film series' have struck gold, the young-adult fantasy section of bookstores has become fertile raiding ground for the next mega-hit franchise. But for every record-breaking Hunger Games, there's an underwhelming Eragon or an also-ran like Percy Jackson.
The latest fant-angst-ical cash cow hopeful from Hollywood is based on a trilogy by Veronica Roth and it's called Divergent.
What I want to know is this: Do young adult authors these days write these books with the foresight to know that they may be picked up and turned into lucrative movie franchises? Also: I understand that this genre takes teenage issues of alienation and self-discovery that feel like life and death, and blows them up into literal life-and-death situations, but do they have to be so goddamned obvious about it?
In the workmanlike Divergent, adapted by Evan Daugherty and Vanessa Taylor and directed by Neil Burger, a post-apocalyptic society in Chicago has been divided up into five cliques—I mean "factions." And everywhere you go, the teens somehow outnumber the adults about 1,000 to one. The know-it-alls, the geeks, the jocks, the smart-asses, and the Jesus freaks are clearly defined groups, and it can be tough if you don't fit in anywhere.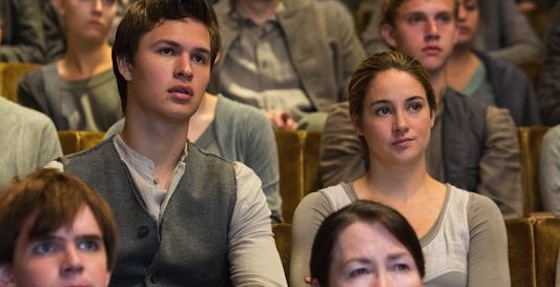 These cliques—sorry, factions—all play their specific roles in the walled-in near-future city, but if you're one of the mild-mannered Jesus freaks who has to wear frumpy gray frocks all the time, let's face it: You've been itching to sport tight leather pants and jump off of moving trains with the jocks for what seems like eternity, right?
The very capable Shailene Woodley lends some authority to a silly, one-dimensional script as Tris, a member of the Abnegation (Jesus freaks) faction who makes the decision to be a Dauntless (jock). The catch is that she's known the whole time that she's Divergent (different). As she learns the value of asserting her independence, the fate of the entire city hangs in the balance, and she's got some quick growing up to do.
Along the way there's a chaste romance, an excruciatingly long military-training sequence that's too dumb to be satiric, and Kate Winslet phoning it in as an evil former honor student with fascistic designs. Did I mention that her brilliant plan to take over rule of the city is basically just plain genocide?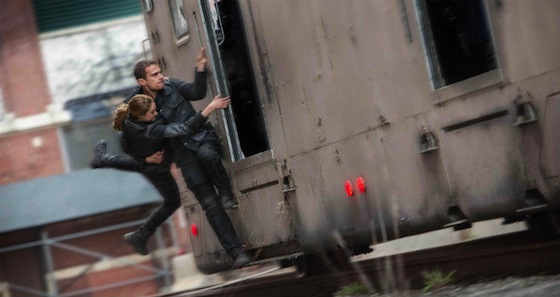 Winslet excluded, most of the actors are up to the task of treating this material with the dead serious tone it requires. Ashley Judd is a welcome sight as Woodley's heartbroken mother in a couple of scenes and Theo James is fine, I guess, as the romantic interest. At least they are working hard to sell it.
When the plot mechanics are moving forward and there's no time to think, Divergent churns right along, high on it's own dumb inevitability and good intentions. Yes, kids should embrace individuality, and yes, they should think for themselves. But at two hours and twenty minutes, this thinly veiled metaphor can be rough going sometimes, and the humorless, dumb script asks way too much of its cast.