This review originally appeared in shorter form on KSNT-NBC, KTKA-ABC, and KTMJ-FOX, Kansas First News.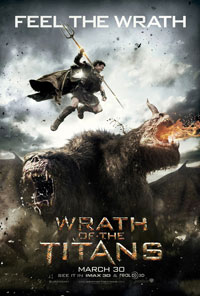 Wrath of the Titans is the sequel to the uninspired CGI-heavy remake Clash of the Titans from two years ago, and the best thing I can say about it is that it's not quite as bad as its predecessor.
(Here's a cool article that contrasts the1981 original's stop-motion animation vs. the CGI imagery of 2010's.)
Sam Worthington is bland as ever as Perseus, the half-human son of Zeus (Liam Neeson) who must rescue his father from the clutches of Hades (Ralph Fiennes) and Ares (Édgar Ramírez from Olivier Assayas' amazing filmic miniseries Carlos) before they release the evil imprisoned titan Kronos on the world. The Gods and their offspring are a virtual cornucopia of accents, with all this Australian, Irish, English, and Venezuelan-born acting talent wasted on explaining the plot and telling the audience what's happening as visual effects whirl around them.
Essentially, the talking scenes—where characters speak out loud about how much power or little power they arbitrarily have over and over again—are nothing more than grade-school level setups for the action scenes, which just kind of blur together after a while. Apparently, the one rule that trumps all others is that if you have a son that you truly love (everyone's dealing with daddy issues in Wrath of the Titans), that is stronger than anything. Ugh.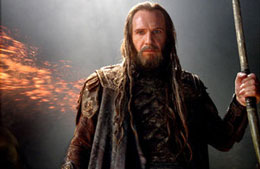 Credit should go to the talented computer effects artists who make it all seem like the actors really share scenes with these impressive creatures, but most of the design work—from the costumes to the sets—is actually pretty bland. Immortals, out on DVD a couple weeks ago, also has a crummy plot and no respect for Greek mythology either, but at least it was interesting to look at.
There is no majesty or mystery to the Gods in Wrath of the Titans. They talk like humans, look like humans, and dress like humans. They don't seem particularly smart, and no pains have been taken by director Jonathan Liebesman (Battle Los Angeles) to give their realm any kind of uniqueness.
Wrath of the Titans is fluff, for sure, but it's not even lighthearted cotton candy. It's more like a convenience store burrito—it just kind of drags you down after a while.
All the thundering sound cues and bombastic music in the world couldn't raise a pulse for this dull, tedious special-effects showcase.
Even the 3D stinks.