This review originally appeared in shorter form on KSNT-NBC, KTKA-ABC, and KTMJ-FOX, Kansas First News.
At first, I was worried that hearing the music of my youth in the context of a cheesy Broadway musical would ruin the songs for me. But about 10 minutes into Rock of Ages, it dawned on me that Bon Jovi, Poison, Night Ranger, Foreigner, and REO Speedwagon wrote very, very cheesy songs—and that the makers of this bizarre musical were paying as much tribute to the their universal appeal as they were poking fun at it.
In fact, because Rock of Ages uses the lyrics of these sappy anthems so cleverly to power its "plot," it made me wonder if these songs weren't just sitting around waiting for somebody to breathe new life into them—to make them relevant again, in some strange way.
By relevant, of course, I don't mean that any serious rediscovery of these tunes will fuel the aspirations of today's youth in any real or substantial way. I mean that in the context of this gloriously absurd jukebox musical, they function as sublime kitsch—and that they work on an almost subliminal level. It's insane the world that Rock of Ages builds around them.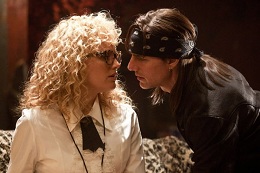 Rock of Ages is a movie that imagines a mythical time and place as seen through the eyes of an audience who was perhaps only able to experience love, heartbreak, and hedonism through the lyrics of 80s hair rock/pop songs.
Nothing in this film approximates reality. Instead, it's like somebody took the collective consciousness of Bret Michaels, et al. and created an idealistic utopia where crusading church moms, cynical culture reporters, and government officials are all horny teenagers at heart and hypocrites in their "real" lives as serious people. Meanwhile, beneath the surface of the excess-filled lifestyle of club owners and rock stars lurks a complicated mind– tortured and misunderstood.
That's not to say that Tipper Gore and the PMRC didn't happen, or that Rolling Stone never scoffed at guys that wore more makeup than your grandmother, or that politicians never got caught with their pants down—it's just that in Rock of Ages, these "characters" exist solely as archetypes to hang a subversive good-time parody on.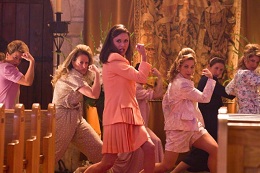 The movie stars two young actor/singers as young lovers that are so completely generic I won't even give their names here. Think about the most neutered performances from Glee and American Idol and you're on the right track. They're the young dreamers with hearts of gold who want to make it big in LA—so it's appropriate that they're pure vanilla. They fall in love, break up, have their dreams shattered, and … well you know the rest.
Is their portion of the film cliché? Hell yes. Aggressively so.
Is it naïve? Like you wouldn't believe.
Does the movie take their plight seriously? Yes, it has to, because everything else is such a thunderous parody.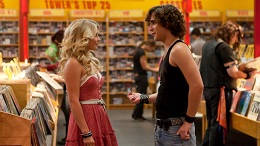 Also, let's just admit it: Something about these songs works. There's that famous saying that you can get away with bigger, broader sentiment when you put it to music—and that's absolutely true here. It's like misunderstood sci-fi classic Starship Troopers' 90210-like casting strategy to get idealistic, fresh-faced young people—it's completely purposeful and it serves the point of the film.
The tawdry, suggestive, yet somehow PG-13 tale that surrounds them—of an alienated rock star (Tom Cruise) and a club (the fictional Bourbon Room, a stand-in for The Whisky A Go Go) under fire from a crusading religious group (Catherine Zeta-Jones' mad mothers)—is a pure hoot from start to finish. These two actors especially approach their characters with relish. Zeta-Jones knows how to make you want to stand up and cheer after a song and dance routine (she has an Oscar for Chicago after all), and Cruise is so deliciously funny and sympathetic as the drug-addled, half-awake "poetic" Jim Morrison-type rocker Stacee Jaxx that he also approaches actual soulfulness—something that was an unintended after-effect for everyone but him, I'm sure.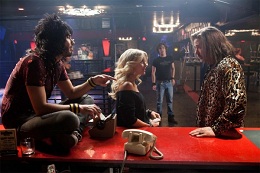 Rock of Ages is guilty pleasure material, for sure, but it's weirder and smarter than that. There's tons of sexual energy, but no actual sex. A "serious" ballad is delivered partially at a urinal. When the singer opens the door to a bathroom stall and sings "I don't know what I might find," one of the characters is on his back in front of a toilet with a plunger, drugged out of his mind. A "straight" love song is anything but. 80s hair bands are the epitome of creative freedom, while stripping and boy bands are the ultimate sellout. Everybody in the movie is a hypocrite — all led by this unbridled id that must have been in the water in LA back in 1987.
On top of all that, there are tons of non-sequiturs and hilarious throwaway moments which make it easy to let down your defenses and harder for people to accuse the film itself of being dumb — even though it revels in big, dumb emotions.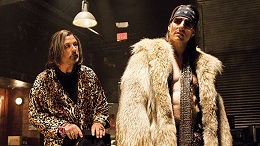 Those emotions are just like its soundtrack, so anybody that says something about how the songs were "mangled" needs to re-listen to the songs. Although it feels a little long at times, there's always another ingenious 80s rock mash-up just around the corner to liven things up again. Director Adam Shankman should be applauded for giving his camera movement and editing as much inventive eneregy as the inspired, go-for-broke supporting performances.
Here's an example: The walkdown sections during Twisted Sister's "We're Not Gonna Take It" and Starship's awful "We Built This City" are combined with vocals from both songs overlapping. The irony is that the angry churchgoers are singing Twisted Sister (lead singer Dee Snider testified on behalf of offending artists and "explicit lyrics" at the PMRC Senate hearings—ha!) and the rockers are singing "We Built This City" (something no self-repecting metal dude would be caught dead doing). The result: a reconstituted, mildly subversive moment!
Once you give in to Rock of Ages, it's impossible not to have fun. That is to say, some viewers, I fear, will resist until the bitter end. I don't recommend this. Drop your guard and revel in the innuendo, the energy, the music, and all the terrific supporting performances from Alec Baldwin, Russell Brand, Catherine Zeta-Jones, Paul Giamatti, Malin Akerman, and especially Tom Cruise.