This review originally appeared in shorter form on KSNT-NBC, KTKA-ABC, and KTMJ-FOX, Kansas First News.
Matt Damon is a widower with two cute kids who is trying to keep the memory of his wife alive while moving his family forward in We Bought A Zoo. When he does just that, he and his family find an inspirational will to keep on pushing.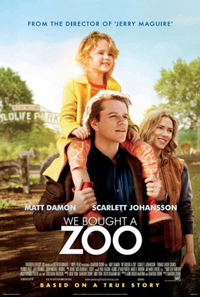 Very loosely based on a true story that took place in the English countryside and was turned into a memoir by Benjamin Mee, We Bought A Zoo is transposed to Southern California by Cameron Crowe, the man who directed Jerry Maguire and Almost Famous.
Crowe has this special ability to take the formulaic cheesiness of a normal script and give it a sense of freshness, so that we are having a good time, even if we are knee-deep in cheese dip.
Damon's brother is played by Thomas Haden Church, who is thankfully more dialed-down than the standard romantic-comedy comic-relief sidekick and there is an almost complete absence of cute shots of animals and their bodily functions. Noble indeed.
Scarlett Johansson is a little too sexy for an out-of-work zookeeper, but its Damon and her relationship and also his connection to his family's past that keeps the movie grounded in emotional truth.
Whenever the film commits a sin of over-manipulation (which happens a lot the way Crowe uses the score by Sigur Rós frontman Jónsi's score), there is always a scene that reminds us why Damon and his family need this.
In large part due to Matt Damon's ability to make his character's grief real, the movie ultimately succeeds and We Bought A Zoo dares the audience not to follow him into this exciting endeavor with the same enthusiasm.