This review originally appeared in shorter form on KSNT-NBC, KTKA-ABC, and KTMJ-FOX, Kansas First News.
Steven Spielberg's new live-action film is called War Horse, but you may get it confused with his computer-animated film The Adventures of Tintin because there's not a real human being in it anywhere.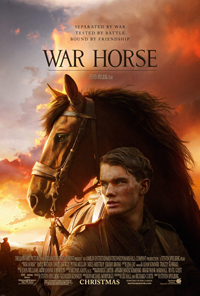 Stealing iconic cinematography cues from Gone With the Wind and old-school John Ford westerns, War Horse is an adaptation of a 1982 children's book that follows a horse with remarkable powers of observation through the various highlights and battles of World War I.
There are no fewer than 10 people who believe they own the horse by the end of the war, and things just kind of wind down with an inevitable thud.
A couple battle sequences are filmed with great care, but War Horse is still essentially a trite, manipulative soap opera run through the lens of World War I to give it a lot of historic and artistic sensibility.
War Horse is one of the most cloying, annoying movies of the year, and Spielberg has really turned back the clock on some of his most mature work to date in the last decade—especially if this is what he's been up to recently.
Here he pays tribute to classic 30s movies, but without any of the innovation. Watching War Horse is like watching Rin Tin Tin or Babe the pig, lucking in and out of every tough situation, Forrest Gump-style. The only difference is, Babe and its sequel were clever films that had something to say.
Read Trey Hock's review of War Horse here.