This review originally appeared in shorter form on KSNT-NBC, KTKA-ABC, and KTMJ-FOX, Kansas First News.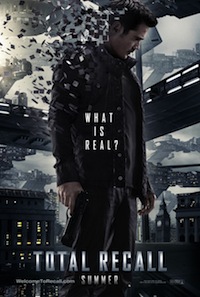 A popular Arnold Schwarzenegger sci-fi movie from 22 years ago has just been remade and opens in theaters today. Is the new version of Total Recall worth checking out, or is it better forgotten?
Well, I'm not going to rant and rave about how the 1990 Total Recall was a classic piece of science fiction and how the remake starring Colin Farrell should never have been attempted. The Schwarzenegger Total Recall (or as I prefer to call it, director Paul Verhoeven's Total Recall) was a weird sci-fi flick for sure—it was twisted, campy, extremely violent, and all over the place in terms of tone.
As much as that made it a unique movie, let's be clear: There was plenty of room for improvement.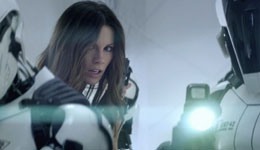 But this new Total Recall ignores all the fun and takes itself very seriously. Unfortunately, it doesn't have the richness of ideas to back it up.
Rather than engaging with the central ambiguity of whether or not we are witnessing an implanted memory or actual events, director Len Wiseman prefers a straight-up, black-and-white tale of good guys fighting bad guys who want to take over the war-ravaged Earth — with a hero who's a duller version of Jason Bourne.
Even though Total Recall is full of imaginative sets and design, its futuristic world is never anything but a nifty-looking backdrop for its action sequences, which are admittedly better than average. But the world never really informs the characters – whose dialogue is also pretty bland – and the result is a little underwhelming.
Kate Beckinsale is having fun as the wife who tries to kill Colin Farrell, but she's the only one. In the end, the new Total Recall doesn't improve on the old one, it just waters it down.