This review originally appeared in shorter form on KSNT-NBC, KTKA-ABC, and KTMJ-FOX, Kansas First News.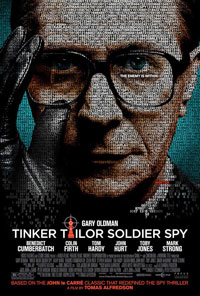 Tinker Tailor Soldier Spy is the movie adaptation of John Le Carre's famous 1974 novel about the hunt for a Soviet double agent at the top of the ladder in the British secret service. A restrained Gary Oldman plays George Smiley, the man who is charged with figuring out who the mole is.
The audience, however, is challenged with trying to figure out what the hell is going on. Unless you have previous knowledge of the book or BBC miniseries (or unless you are taking copious notes), this may be *ahem* difficult to say the least.
When people use the word "chilly" to describe Cold War movies, they're usually trying to be clever, but here it really applies—to the film's ultimate detriment.
You see, Tinker Tailor Soldier Spy looks fantastic. Tomas Alfredson, who directed the formalistic horror delight Let the Right One In, has a distinctive knack for composition and movement. The set design and cinematography of Tinker Tailor Soldier Spy is very stylish and each shot is meticulously composed for this very uptight British sterile look.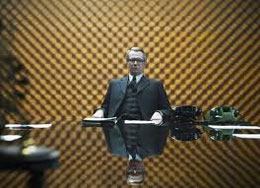 But the movie is sterile too.
Calling it a thriller is being too kind. It unfolds at a glacial pace with no urgency whatsoever and most of the characters are so repressed that the actors playing them—especially Colin Firth—seem asleep.
There's something to be said for a film plotted with clever twists and turns, but Tinker Tailor Soldier Spy's dense flashback-flash-forward structure and complete lack of outward emotion make it almost incomprehensible.
Add to that the fact that most of the "action" isn't shown and only talked about by a multitude of taciturn main characters with ulterior motives and you have a tough recipe for a thriller. After all, suspense is created by knowing the stakes and being able to comprehend how they rise as the conflict deepens.
Alfred Hitchcock once said "What is drama but life with the dull bits cut out?" Tinker Tailor Soldier Spy is hellbent on creating drama out of only the dull bits — and as interesting as the movie is to look at, it's not very suspenseful at all.