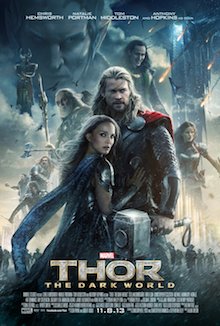 This review appeared in slightly different form on the Scene-Stealers Lawrence.com blog and a video review from KCTV5′s It's Your Morning.
As Marvel's cinematic universe extends into its second phase, Thor: The Dark World finds itself sandwiched between movies seven and nine in the franchise (or one and three, depending on how you look at it) with the dual responsibility of opening up the story to include other planets, while also bringing back characters from the first Thor.
After a good 20 minutes of pretty laborious setup (including more unintentionally funny authoritative speechifying from Anthony Hopkins as Odin), the film finally gets to move forward. When it does get going, it's the charisma of the actors (especially Tom Hiddleston as Thor's scheming adoptive brother Loki) and the film's sense of humor that keep it afloat. That and a creatively staged final action scene, which adds a new twist to the portal-between-worlds concept that was introduced in The Avengers.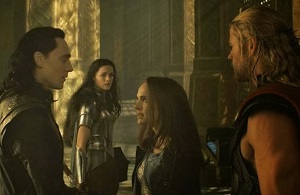 Thor: The Dark World—directed by Alan Taylor, who helmed several Game of Thrones episodes—borrows a page from The Lord of the Rings playbook, in that an ancient evil race that almost achieved world(s) domination years ago is re-awakened to get revenge by reclaiming the lost object that will seal the deal. It's not a ring, but rather one of those annoying amorphous CGI effects so prevalent in fantasy films these days—a floating spidery liquid called "the aether."
I guess that makes scientist Jane Foster (Natalie Portman) Gollum, because she is the one whom the aether finds and bonds with. It would have been more fun to have Jane lose most of her hair and skulk around hissing at her boyfriend Thor (Chris Hemsworth), but that might have taken us into some Black Swan territory.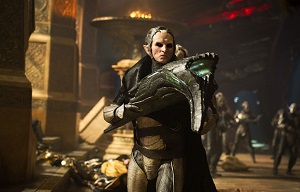 In 2011's Thor, we were introduced to the frost giants. Now we have the dark elves to contend with as well, and their piercing eyes and creepy-looking masks illustrate a welcome willingness of the series to break out of its more dominant medieval production and costume design. Thor rekindles his relationship with Jane as they try to find a way to stop the aether from destroying nine worlds, so you'll have to forgive the movie for not concentrating enough on their relationship. There are more pressing matters, after all.
(Had the plot of Thor: The Dark World not been another major world-ending catastrophe, it might have been easier to overlook the fact that S.H.I.E.L.D. and The Avengers aren't called, but the short answer—and that will have to do –is that there simply wasn't time. So it goes.)
Kat Dennings' role as Jane's sidekick was reportedly beefed up, which is a good thing, since she supplies the film with much of its self-mocking humor. Hiddleston again impresses with his love-him-and-hate-him portrayal of Loki, which can go from subtle to scenery-chewing in a single moment and still be credible.
It's not an easy task to be one of many middle children, and although Thor: The Dark World starts off bumpy, it delivers exactly what you would expect by the end. Marvel's formula of blending humor into its increasingly labyrinthine comic-book universe is proving to be a smart one. Like the rest of the movie, the end-credit sequences strike three very different tones, all of them entertaining, while teasing the chapters to come.