Check out videos of all my movie reviews on KSNT-NBC, KTKA-ABC, and KTMJ-FOX, Kansas First News.
One of Hollywood's most successful comedy producers has a new movie out that seems like it might be very autobiographical, considering that it stars the three female members of his immediate family.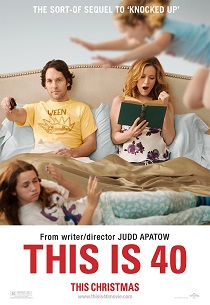 Writer/director/producer Judd Apatow cast his wife Leslie Mann and their two daughters in Knocked Up, his mega-hit from 2007, and they are back as main characters with Paul Rudd as the husband/father in the hilarious new comedy This is 40. At times, the movie feels like a behind-the-scenes peek at the Apatow household, but it's precisely his astute personal observations that make the movie so truthful.
This is 40 is a messy and consistently funny movie filled with authentic anxieties about middle-aged life. It's easy to forgive movies that ramble as much as this film does when they keep supplying laughs. Considering some of the less-than-stellar notices I've seen the movie getting so far, it may be the most overlooked and underrated comedy of 2012.
Besides dealing with the insecurities that come along with advancing age, Rudd and Mann are also struggling to find their way through the recent financial downturn in This is 40, but don't let that deter you from thinking this film isn't uproariously funny. Albert Brooks and John Lithgow play the couple's respective fathers, adding more depth to the film, but the main reason to see This is 40 is for all the painfully funny moments.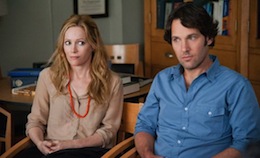 There are certain things about This is 40 that ring so specifically and absolutely true to my experiences that it feels, at times, that the movie was designed personally for me. Like Apatow's last effort, the bitter Funny People, This is 40 has a main conflict isn't as specific and easy to identify as most movies (inner malaise and dread are hard to externalize), but it's overflowing with hard truths and relatable moments—the kind that the best, most hardcore of stand-up comedians can zero in on.
For a comedy that clocks in at just over two hours, This is 40 is a little unwieldy, but it avoids the oversimplification pitfall that most romantic comedies fall into, so it's easy to excuse a rambling pace. Apatow's biggest strength is his ability to wrangle frank and perceptive scenes into one overarching theme and wring huge laughs out of them, and he does that in This is 40 in spades.