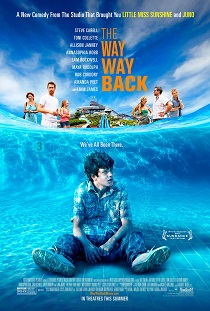 The Way, Way Back refers to the seat in late 70s/early 80s era station wagons that faces backwards, giving the kids who sit there the opportunity to stare into the face of approaching drivers. More importantly perhaps, the seat is farther away from the front seat than the back seat is.
That extra space isn't just physical in the perfect opening scene of the film, which features socially awkward 14-year old Duncan (Liam James) in the way, way back seat and his Mom's overbearing boyfriend Trent (Steve Carell), who's driving the station wagon, glimpsed only in the rearview mirror. In the huge gap between them figuratively as well are Duncan's disinterested sister (Zoe Levin) and his Mom (Toni Collette).
Trent, in an ill-advised attempt to bond with what he hopes to be his new stepson, tells the kid that on a scale of one to 10, he rates about a three. He should try a little harder. Get out. Meet people. Do something with his life. Maybe Trent really has Duncan's best interests in mind, but it's such a passive aggressive insult. And a teenager still reeling from the divorce of his parents isn't going to take away any positive message from that. Imagine that this is the guy you have to deal with on this car trip. Now imagine you've got to deal with him all summer long while you stay at his vacation house and he tries to worm his way into your family.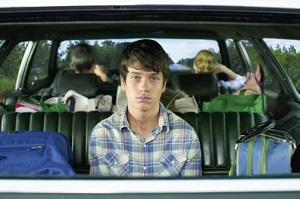 The directing debut of Nat Faxon and Jim Rash (who won Oscars for co-writing The Descendants with Alexander Payne just two years ago), The Way, Way Back is a charming coming-of-age film that overcomes a lot of pitfalls of the genre because its protagonist is so beautifully inexpressive and uncomfortable to begin with that when he finally does make the small strides needed to come out of his shell, it feels like a huge triumph. Liam James (who plays Mirielle Enos' son on AMC's The Killing) is virtually silent for the first half of the movie, as his world keeps getting worse and worse.
The neighbor (a scene-stealing Allison Janney) is a gossipy lush, and all the adults who hang out in this run-down beach town use the summer to relive their youth, so they behave like children. Meanwhile, Duncan meets a gregarious waterpark owner named Owen (Sam Rockwell) who also behaves like a child, but immediately recognizes a kid who needs some cheering up and gives him a chance. Meanwhile, Duncan struggles to string two sentences together without embarrassing himself in front of Susanna (AnnaSophia Robb), the cute girl next door who also agrees that "it sucks here."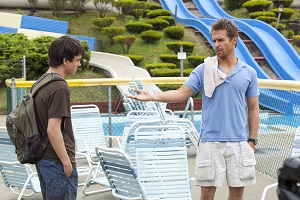 If you can't tell what's going to happen from here, then you haven't seen many movies about the "summer that changed everything." It's a well-worn genre (Adventureland — also set at a theme park — recently made something poignant from it as well), but The Way, Way Back features a very funny script with more than its share of truthful moments, and a fantastic cast that really lifts the material up.
Toni Collette shows many shades of pathetic as she tries to be strong for her future and her kids, Steve Carell is in dialed-down mode and injects a big amount of sad humanity into what could have been a one-note character, and Sam Rockwell is his usual motor-mouthed self, but also shows a deeper understanding of his own limitations as a human being. If Carell is the alpha male; the go-getter who takes what he thinks he deserves (he's a car salesman to boot), then Rockwell is the guy who realizes his limitations and spends his time making the best of them with a wry sense of humor.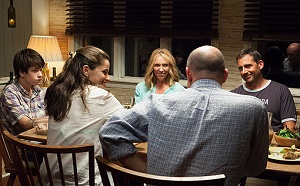 Rash and Faxon, who also star in supporting roles, stage the movie quite naturally and get great performances, which makes it all the more disappointing that they rely on a montage for one pivotal scene that illustrates Duncan's growth. The co-writer/directors keep most of the movie in line with the toned-down inwardness of their main character, although it does veer into broader comedy and some overly convenient plotting every now and then. The Way, Way Back also seems to exist in a weird time warp where several very 80s pop-culture references exist side by side with a modern setting and heavy use of cell phones. There's a comment about how the waterpark never really grew beyond that time period, but it feels like they should have just gone for it all the way and set it in the 80s.
For all of the familiar elements of The Way, Way Back, it's an easy movie to fall in love with. For all the obvious directions its going in, it has an easy underdog charm that's undeniable. Almost all of the characters in the large and talented ensemble cast experience their own life-changing moments of self-realization, and some of them are quite small and subtle. Rockwell and Janney stand out as bigger performances, but that's also because they get most of the really funny material. They too are part of a bigger picture — a portrait of young people trying to find themselves and lonely adults doing the same thing, to their kids' detriment.
But Liam James is the introverted heart of the film, and is somewhat of a revelation. His perfect portrayal of a skittish boy who is forced to become assertive anchors the whole movie and makes it a coming-of-age story worth revisiting.