This review originally appeared in shorter form on KSNT-NBC, KTKA-ABC, and KTMJ-FOX, Kansas First News.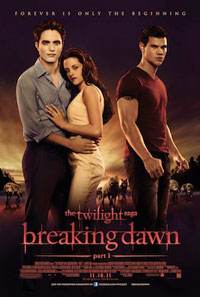 To put it simply, The Twilight Saga: Breaking Dawn – Part 1 is the fourth installment in a series of movies where a super-handsome vampire (Robert Pattinson) and a super-strong werewolf (Taylor Lautner) fight for the love of a lonely teenage girl (Kristen Stewart).
(Here are video reviews from Eclipse, New Moon, and Twilight, with clips from the films.)
The series started as an overheated metaphor for teen alienation and self-pity and worked pretty well at the beginning, but has now turned into an all-out soap opera with a wedding, a honeymoon, a baby, and two warring families.
Since that it is adapting only the first half of the Stephanie Meyer book it is based on, Breaking Dawn – Part 1 is at a disadvantage because it doesn't have a climax or an ending — but new director Bill Condon and director of photography Guillermo Navarro help make it the most cinematic Twilight movie yet with opulent art direction and beautifully composed shots.
Kristen Stewart and Robert Pattinson have matured along with their roles and the first 40 minutes or so has everyone smiling and cracking jokes, which is a nice change of pace from the usual sullen atmosphere of the other films — but then Taylor Lautner shows up to sulk and complain some more about how he can't get over Bella Swan (Kristen Stewart). I can't tell if Taylor Lautner is playing a one-note character interpretation by design (Could shape-shifters be single-mindedly obsessed as a species?) or if he's just a bad actor.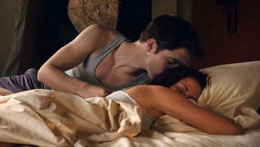 Robert Pattinson and Kristen Stewart play their connection convincingly, but they are the only ones. Ultimately, this movie has more forced sincerity than a Republican presidential debate.
What really gets in the way of Breaking Dawn – Part 1 is the silly, contrived plot. Many of the choices made by the characters don't seem organic — which is really odd considering that there isn't really that much conflict outside the moral dilemma (made tougher because of supernatural forces) of whether Bella Swan will keep the baby or not.
There's less cringeworthy dialogue in Breaking Dawn – Part 1 than the other films, and Bill Condon does a better job visually telling the story, but it's hard to make a riveting two-hour film when the main conflict seems completely arbitrary.