This review originally appeared in shorter form on KSNT-NBC, KTKA-ABC, and KTMJ-FOX, Kansas First News.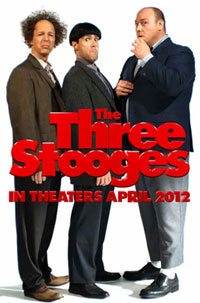 The movie most likely to take on The Hunger Games at the box office this weekend is a reboot of a comedy team that was created 87 years ago. Believe it or not, it's The Three Stooges.
The new Three Stooges movie has been a passion project for Peter and Bobby Farrelly for over a decade now. Since bringing us the memorable stupidity of Dumb and Dumber 18 years ago, the Farrelly brothers  have been pretty hit or miss, and The Three Stooges is no exception.
The difference this time out lies in the purity of their intentions. As big fans of Moe, Larry, and Curly, the Farrellys wanted to bring the Stooges' inspired slapstick and dangerous stupidity to a family audience with a PG rating, and in that, they've succeeded.
Chris Diamantopoulos, Sean Hayes, and Will Sasso do spot-on impersonations of the Stooges and the characters themselves are true to the original Stooges. What's changed is the modern backdrop around which there is a torrent of slapping, falling down, and double eye-poking.
The new Stooges nyuk-nyuk-nyuk their way through three 30-minute episodes, put together in linear fashion for this mercifully short 90-minute feature. It takes awhile to get used to the lowbrow vaudevillian brand of humor in a modern setting, but once you accept it, it's actually pretty funny.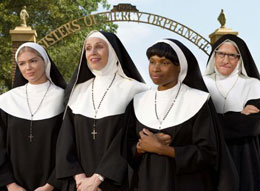 Some of the she supporting cast is —  frankly — mystifying: Larry David is a screeching nun, Jane Lynch has no sardonic wit or room to improv, and why is Jennifer Hudson in this movie at all? And why doesn't she age after it says "25 Years Later"?
As the new Stooges go cross-country to raise money to save their orphanage, it's easy to see this is a movie that's out of its time. Is it strange watching three dimwits repeatedly engage in stunts that would give Johnny Knoxville pause?
It sure is: A parent in 2012 isn't likely to think it's funny when a chainsaw gets applied to a man's bald head for laughs. (The movie's epilogue answers those parental concerns with a sincere warning from two burly, handsome looking dudes wielding foam hammers who call themselves the Farrelly brothers.)
But The Three Stooges is so lighthearted and good-natured that it's almost impossible to resist completely. A couple of the extended physical comedy sequences come close to hilarity, but if the last reel would have taken the slapstick to dizzying idiotic heights, it would be a solid movie all around.
As it is, it's a fun breath of 'fresh' air, straight from the 1930s.