This review originally appeared in the shorter format above on KSNT-NBC, KTKA-ABC, and KTMJ-FOX, Kansas First News. 
In these days of sub-par horror remakes that exist only because Hollywood hopes the name recognition will reap box office rewards, The Thing stands just a little bit taller than the rest.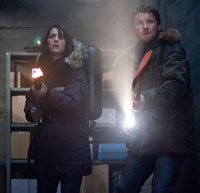 In the timeline of events that take into account the 1982 John Carpenter classic starring Kurt Russell, this version of The Thing is essentially a prequel.
But the mechanics of the plot—a crew of scientists in Antarctica discover a deadly alien life form that takes the shape of those it kills—are so similar that the movie can be called a remake at the same time.
Great care has been taken to not fill this movie full of lame, jittery camera angles and a faster-than-necessary pace, which is nice. It's just too bad that Mary Elizabeth Winstead, who takes Russell's spot as the lead character, is dull as dishwater. Where's Ripley from "Alien" when you need her?
She's not the only one. Possibly in the interest of keeping the film brief (it's barely 100 minutes before credits roll), none of the impressive cast (Joel Edgerton, Ulrich Thomsen, Adewale Akinnuoye-Agbaje, Eric Christian Olsen) get the opportunity to do much.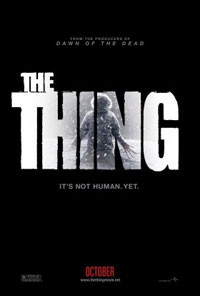 The script, although a model of efficiency, just isn't interested in giving them time to develop much. This means that when everything goes haywire, we don't have strong opinions and differing ideologies being thrown around the room.
The creature effects are a gory and effective combination of CGI and makeup, and The Thing throws suspicion around its cast members well enough to be pretty suspenseful at times, but it just lacks personality.
During the credit sequence, director Matthijs van Heijningen Jr. cuts to a series of shots that lead up to Carpenter's film. Although its arguably a lot of fun to see the plot develop up to the familiar beginning, the biggest mistake is that the director brought back a portion of Ennio Morricone's original menacing synth score. For a moment, the movie felt alive in a way that it really hadn't yet. Spotlighting the 1982 movie right then and there just served to point out how generic this new one was.
Still, as far as horror remakes go, it could have been way worse. I'm looking at you, new Freddy Kreuger!