This review originally appeared in shorter form on KSNT-NBC, KTKA-ABC, and KTMJ-FOX, Kansas First News.
It's hard to argue with the enormous amount of enthusiastic earnestness on display in The Muppets, the new reboot of a movie franchise that hasn't been vital since 1984.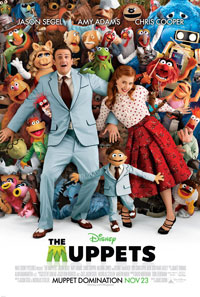 Writer/star Jason Segel landed his dream project when he and his Forgetting Sarah Marshall director Nicholas Stoller were given the greenlight to reinvigorate Jim Henson's waning puppet creations, relegated in the 00s to a pair of disappointing made-for-TV movies. Luckily for Disney, the studio that currently holds the rights to Henson's characters, the pair has a firm grasp on what makes these ferocious felt creatures so lovable.
The Muppets opens with a creative conceit that later turns out to be its most clever moment: Gary (Jason Segel) and his brother Walter (a Muppet, voiced by Peter Linz) grow up in Smalltown, USA. It's a carefree, idyllic suburbia — all picket fences and baseball games. But as Gary grows up to be a normal-sized human, little Walter remains a little felt outsider. When he discovers The Muppet Show on TV, he feels a sense of kinship and becomes their biggest fan.
On his 10-year anniversary with his girlfriend, bubbly local schoolteacher Mary (Amy Adams), Gary decides to take a trip to Los Angeles, which includes a visit to The Muppet Studio. From here on out, it's strictly formula as the trio meets Kermit the Frog and convince him to get The Muppets back together for a telethon to raise money to save their beloved studio from Tex Richman (Chris Cooper), an evil oilman who wants to drill underneath the property.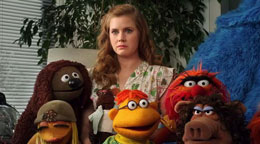 Segel and Stoller have filled The Muppets with a lot of self-aware humor (such as Richman's "maniacal laugh" prompt to his henchmen) that's similar to the anarchic spirit of The Muppet Show and the early Muppet movies. They have also retained the Muppets' essential sweetness, which is so key to their success.
By showing us clips from the 70s and filling the movie full of all kinds of sly references to the past (its Orson Welles' "standard rich-and-famous contract" from 1979's The Muppet Movie that has them in all this hot water in the first place), the movie is constantly evoking nostalgia. Sometimes the film relies on that nostalgia too much, but its often used to make a commentary on what passes for kids' entertainment these days (Punch Teacher is a popular TV show, a scuzzy knock-off act  called The Moopets are popular).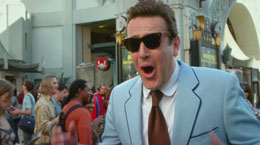 The Muppets is, of course, filled with songs. Here again they walk the line between a new direction and nods to the past by including the three best-known Muppet songs among a slew of original tunes from Bret MacKenzie (HBO's Flight of the Conchords). MacKenzie's songs are ebullient and catchy for the most part, especially the main theme "Life's A Happy Song," which is bound for an Oscar Best Song nomination for sure. Some contemporary songs are also thrown in to varying degrees of success: I'll be damned if the Cee-Lo cover from Gonzo's chickens isn't perfectly in the spirit of some of the wordless covers that populated The Muppet Show, but "We Built This City" is unforgivable.
If there's one thing that's missing, it's only something that older fans will be able to recognize. Jim Henson and his original puppeteers worked on these characters for years and years. It was an organic process and ensured that the puppeteer essentially became the Muppet. There was a symbiosis that allowed them to react in any situation in character, much like an improv comedian. That natural playfulness, that unforced comedic timing is missing here. I'm not talking specifically about the voices, although that's a part of it — I'm more talking about the essence of the characters just doesn't seem to be there.
But this is the first in the reboot of the franchise, so there's plenty of time for growth. Director James Bobin has things definitely starting off on the right foot.
The central joke of the movie (that wearing your heart on your sleeve is outdated) is also the basis for its most heartwarming moments: The world has moved on and gotten harder and more cynical without The Muppets. Their return is cause for celebration, even if the Henson family and Frank Oz aren't involved.
The Muppets has a predictable ending, for sure, but I'll be damned if even the hardest-hearted person won't be choking back a joyful tear by then.