This review appeared in a completely different form on KSNT-NBC, KTKA-ABC, and KTMJ-FOX, Kansas First News.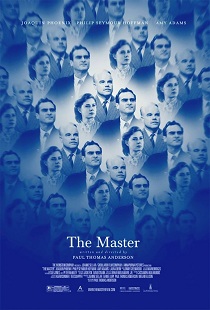 The relationship at the core of writer/director Paul Thomas Anderson's cryptic new movie The Master is not a new one. Call it what you will: Father/son, teacher/student, master/servant, mentor/acolyte—it's a tried-and-true template for dramatic tension.
The Master however—which draws its inspiration at least partially from the life of Scientology founder L. Ron Hubbard—ignores the rules of the game when it comes to stories in this vein. In The Master, neither character triumphs over the other, or their demons. Rather, the relationship gradually reveals itself to be enabler/co-enabler. Put simply: That's not always  dramatically satisfying.
But there is so much more to chew on in The Master than a familiar story simply told. The movie, rich in thematic detail, keeps the audience at a distance even as it burrows deep into the psyches of its two damaged main characters.
Sex-crazed, shellshocked Freddie Quell (an angular, unpredictable Joaquin Phoenix) exits the Navy after World War II with a chip on his shoulder and several self-destructive tendencies, not the least of which is a drinking problem. Merely drinking like the rest of the country, however, isn't enough for Freddie. He pours liquid out of spent missile shells and mixes it with some sort of alcoholic concoction in a flask that he keeps in his coat pocket. Later, he mixes up a secret stash of hard liquor and paint thinner that catches the eye of a fellow spiritual traveler (Philip Seymour Hoffman) who calls him both a "scoundrel" and a "silly animal," but not before imbibing in his poisonous home brew.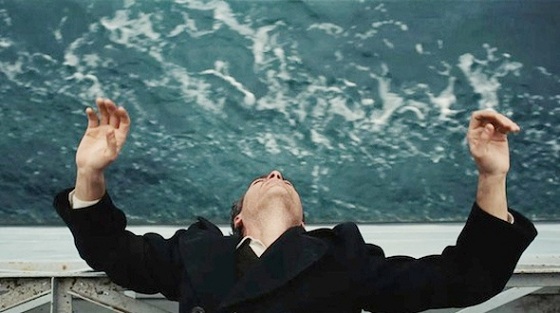 Not seen onscreen since the noble, bizarre faux-reality experiment I'm Still Here, Phoenix is in primal acting mode as the tortured Freddie Quell. Not self-aware but totally impulsive and self-indulgent, Freddie cannot understand his affliction and hasn't the remotest idea how to keep it at bay.
WWII was simple. The country rallied, worked together, and triumphed over evil together. But things were more complicated back home. Veterans in record numbers had their own internal wars raging while the rest of the country experienced a boom. The Master never gives us a straight-up diagnosis for Freddie, although we assume he's got post-traumatic stress disorder. His father died when he was young from alcohol-related something or other, and his mother was institutionalized, so we can assume that the Navy was probably the best thing that happened to young Freddie.
Freddie's dangerous moonshine is enough to put lesser men in the ground (as it has, which is why Freddie is on the run), but it proves to be irresistible to Lancaster Dodd (Hoffman), who encourages Freddie to stay on his boat after he's discovered as a stowaway. What begins is an addictive, co-dependent relationship between two men who are seemingly polar opposites on the surface, but are driven by similar needs. One needs to control himself while the other needs to control people, and they see in each other a hole that can be filled.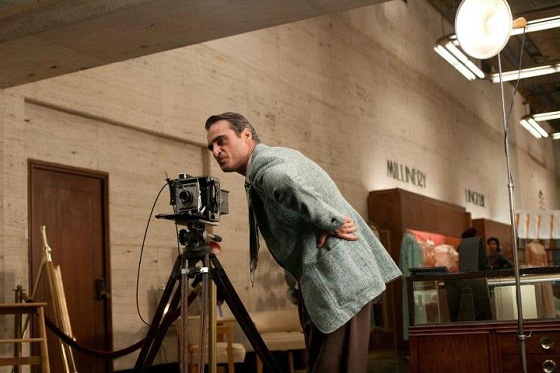 As much as some will want to label The Master himself a hollow man—he is anything but. He feels a deep connection to people, especially Freddie. Dodd desperately wants to unlock human potential in order to return "homo sapiens" (his words, in his 2nd book, as in "a gift to homo sapiens") to their original state of perfection, or something like that. This need to perfect his healing or "processing" method is equally driven by vanity and hubris.
That his ideas are inconsistent (he might say evolving) don't necessarily mean he's a fraud because he knows he's onto something. And if he can help lost little boy Freddie Quell, well he can help anybody. Maybe that's also because he views Freddie as a bizarre mirror of himself. He says "man is not an animal," but he contradicts himself early on, calling Freddie one, and Dodd feels like one sometimes. Still, he's never seen anyone so thrillingly in touch with their own animalistic urges as the splintered, aggressive Freddie. The Master needs a student to prove himself, to give an obvious physical representation to the reason that 'The Cause' exists.
Phoenix and Hoffman are riveting in their roles, and both are studies in opposing forces. Phoenix is both contemptible and sympathetic. Hoffman is both warm and blustery. The scenes where Dodd and Quell face off are absolute showcases for vulnerable, multi-dimensional characterization.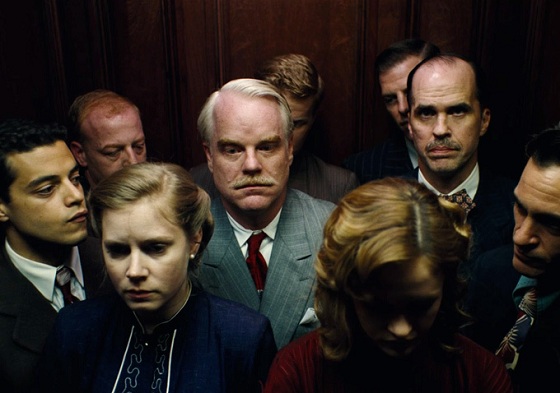 Dodd wants to purge animal urges through processing: repeating answers over and over again to reach deeper, hidden truths. His process is also—perhaps coincidentally or not—a lot like forced confession techniques. When Freddie falls in line with Dodd's aggressive questioning technique, a bond is immediately formed. Later, The Master calls Freddie "my guinea pig and protégé."
There are some traditional story beats throughout the first 90 minutes of The Master, but they begin to fall away as the tension increases. Anderson stubbornly refuses scenes with a clear point of view, robbing us of the solid footing we've come to expect. He opts for smaller, opaque moments that paint a bigger picture rather than actually showing us exactly what that larger canvas looks like.
He takes this concept literally as well. There are no sweeping panoramic shots and very few establishing shots that orient the viewer in a specific physical space. This is especially weird for a period piece, but then The Master is the polar opposite of any historical period drama, seeking a truth that isn't found in grandiose production design. Anderson and cinematographer Mihai Malaimare Jr. want to keep us as alienated as their characters. Even more strange is that the movie was shot on rare 70mm film (Panavision System 65 to be exact), the kind of expansive view most often used for said lush, romantic historical period pictures.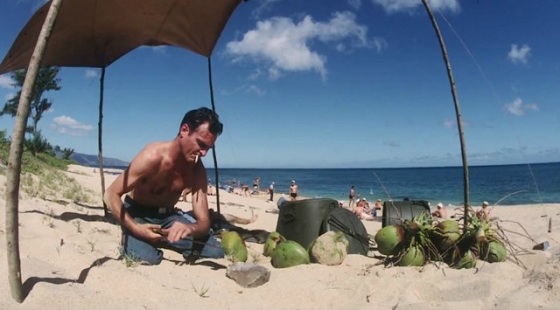 Jonny Greenwood's percussive score is coarse and unsympathetic as well. It doesn't cater to an audience's need for specific context by telling them what to think with shorthand emotional cues. If this all sounds a bit unnerving, wait—there's more:
The climax of The Master is unconventional to say the least. In fact, as it was occurring, I had no idea it was occurring; that this was the turning point for these characters. In The Master, there is no catharsis. Here's what I realized later: Even when real people are presented with choices, they don't always work out. That essential turning point—the moment that movies thrive on to give audiences the satisfaction of knowing they've seen something important; that something life-changing was accomplished—can come and go in real life. The opportunity could be either ignored or have simply run its course. Essentially, nothing has changed.
That's what The Master reveals. This character study is complex, difficult, and nuanced, and it posits a message that's wholly antithetical to the moviegoing experience: The core of who you are does not and cannot change. It remains the same throughout your existence, no matter what outside forces you come in contact with.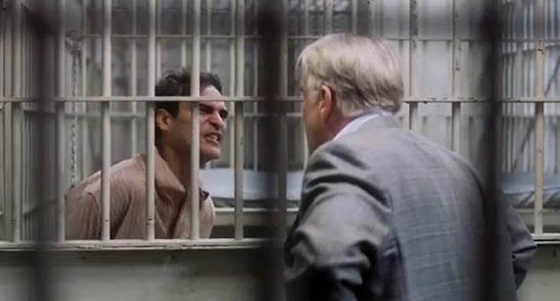 Does that brand of cinematic truth butt heads with most everything we love about cinematic storytelling?
Sure it does. The Master then, exits the screen leaving a deep imprint on the viewer willing to accept the challenge of an unconventional structure and unlock the mysteries of its parallel characters. Others will have every right to feel betrayed by a low-key conclusion that gives them no answers and no catharsis, leaving them as unsatisfied as poor Freddie Quell, and using the lack of drama in the third act as an excuse to discount and forget everything that piqued their curiosity in the preceding two hours and ten minutes.
When the credits rolled, I was the latter, but The Master hasn't left my thoughts for a week after seeing it, so I am certifiably in the former category now—ready to see the film on the big screen again as soon as I can. Anderson's film is bold and audacious and thrilling … but it's still hard not to view the third act as somewhat of a dramatic letdown, especially following all the meticulous buildup that preceded it.