This review originally appeared in shorter form on KSNT-NBC, KTKA-ABC, and KTMJ-FOX, Kansas First News.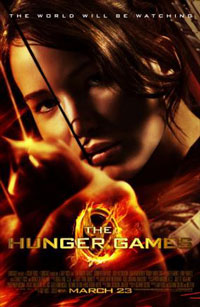 The young-adult book series by Suzanne Collins that has taken the country by storm gets its first movie adaptation as The Hunger Games hits theaters this weekend.
Jennifer Lawrence headlines The Hunger Games playing Katniss Everdeen, a young girl from a poor coal-mining district somewhere in North America in the near future. (The nation is called Panem.) She is one of 24 children forced to fight each other to the death in a wilderness combat zone manipulated by the wealthy ruling class. It started as a punishment for a quashed rebellion 75 years prior, but now the annual Hunger Games are a country-wide spectacle, watched by all on TV. Josh Hutcherson plays Peeta Mellark, the boy from her district who is chosen and forms a kind of alliance with her during the game.
Although the movie does an impressive job setting up the complicated premise and background of Lawrence's character, The Hunger Games is not as smart of a satire as it thinks it is. Certainly it has a PG-13 rating to consider so it can't be as dark and sadistic as the controversial Japanese sensation  Battle Royale, but even the little-known Series 7: The Contenders had more to say in 2001 about the sickening depths to which people will sink for reality TV. (It also has a way more satisfying ending.)
The Hunger Games is 142 minutes long and at times it feels every bit of it. I had a similar experience watching this as I did watching the Harry Potter series, having not read those books either. Sometimes it feels as if you are seeing the Cliff's Notes version.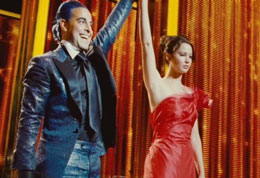 What is the most intriguing about The Hunger Games is how cartoonish the ruling class is portrayed with their garish, brightly-colored outfits and wigs (Elizabeth Banks and Stanley Tucci have some hilariously memorable coiffs) and their ridiculously ornate facial-hair stylings (Wes Bentley brings the word "flaming" to a new level with his endlessly curling beard). Meanwhile, the poor people of District 12 look like they walked straight out of a Dorothea Lange photo essay.
This overt characterization creates problems on both sides. The uber-rich games announcers played by Tucci and Toby Jones get to have all kinds of fun hamming it up — and its so over the top that its funny just watching them do it — but when some of them have soften up a bit (like Banks and Woody Harrelson's turn-on-a-dime alcoholic mentor character), it isn't believable at all. And because the movie doesn't really have the time to go into how exactly Panem oppresses its people, the psychological hold that President Snow (Donald Sutherland) has over everybody isn't elucidated. This creates problems for our heroes because it would seem they have nothing to lose but their lives (which I was told by a fan of the book is not true).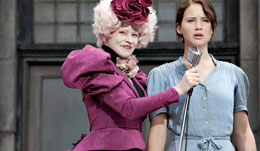 As much as director Gary Ross sticks with the strategy of giving the audience Katniss' POV almost exclusively, you would think that some of the survival scenes would hold more punch. Considering its  Most Dangerous Game-like premise, there are a whole host of moral dilemmas and frightening possibilities not explored in The Hunger Games. Maybe breaking POV once in a while to give us some scenes with the other contestants (dubbed "tributes") would have deepened our connection with Katniss and made the other teens' deaths more strongly felt.
One particularly hallucinogenic moment, however, is delivered quite effectively in cinematic terms., as Katniss temporarily loses touch with reality. Also, since Jennifer Lawrence plays Katniss pretty close to the chest, it is interesting to guess her motives at any given moment.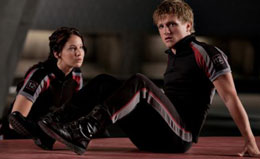 The art direction and costumes do a lot to tell the story, and Lawrence is very good as the tough-as-nails heroine, but for all of its life-or-death situations, unfortunately, the movie isn't really all that tense.
The tyrants who run the games can't even agree on the rules. Changing them is supposed to deliver more dread and higher stakes, but at times it seems like one too many easy-way outs for the characters. Are we supposed to believe that in 74 years, nobody else forced to play this game ever rebelled in this way?
Ultimately, The Hunger Games is not a bad film, just a fairly bland one. Maybe The Hunger Games series will deepen with further adaptations, but the series is off to a pretty pedestrian start.