This review originally appeared in shorter form on KSNT-NBC, KTKA-ABC, and KTMJ-FOX, Kansas First News.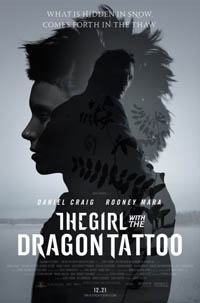 The director of Fight Club and The Social Network, David Fincher, tries his hand at adapting the first book in the hugely popular Swedish mystery-thriller book series The Girl With the Dragon Tattoo.
With Rooney Mara as the asocial computer-hacker title character and Daniel Craig as the  disgraced journalist from Stieg Larsson's novel, the two form an unlikely alliance and try to solve the mystery of a 40-year old murder.
This English-language version of The Girl With the Dragon Tattoo is every bit as dark and uncompromising as the original trilogy of Swedish movies, but it's also a little more faithful to the original text.
As he proved last year with a bunch of college kids sitting in front of computer terminals, David Fincher can make the inherently uncinematic into thrilling cinema. Fincher is the right director to make a movie where two people rifle through endless amounts of paperwork and old photos suspenseful.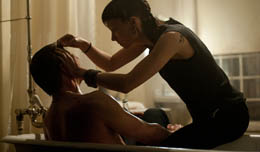 Mara is very effective as the withdrawn cyberpunk antihero and Craig is playing about as far away from James Bond as you can get. At 2 hours and 30 minutes, it covers a lot of ground and maintains a tense vibe, but when the serial-killer element trips up the plot, it falters.
Luckily, Fincher also spends a lot of time with the characters to bring The Girl With the Dragon Tattoo back into focus. And it's the characters that will keep us coming back for sequels.
The Girl With the Dragon Tattoo is a strong launch for an adult mystery series, even though many people are already familiar with its offbeat charms.