This review originally appeared on KSNT-NBC, KTKA-ABC, and KTMJ-FOX, Kansas First News.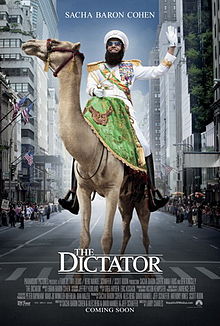 Coming off of publicity stunts at this year's Oscars and Saturday Night Live, the most outrageous satirist in comedy has a new movie in theaters this week.
Sacha Baron Cohen, the man behind the prank-based satire of Borat and Bruno is back with The Dictator, a movie that contains all the shock humor and cultural skewering you've come to expect from him, but wraps it all up in a very different package.
Larry Charles is on board again as director, and Baron Cohen plays Admiral General Aladeen, a  dictator from the fictional country of Wadiya. Like he did in his previous films, Baron Cohen relentlessly parodies hypocrisy with a fish-out-of-water character.
The difference is that The Dictator is fashioned in the style of the modern American romantic comedy. In this case, Aladeen falls for the least likely person ever—a short-haired, peace-loving owner of a green grocery store in New York, played by Anna Faris.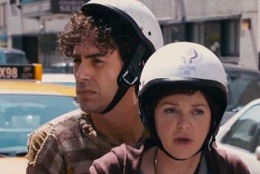 Does this shift in style mean The Dictator is more conventional than the reality-based Borat and Bruno? Or is it more subversive because it follows the romcom format while betraying romantic comedy sensibilities with a vicious mean streak and some sublimely shocking moments?
I think that will depend on how you feel about Baron Cohen's style of humor before you see The Dictator. Some of the jokes in the movie are designed to make you cringe more than they are to challenge you to think, but I still believe Baron Cohen is a fresh and unique comedic voice and an equal-opportunity offender.  (The movie is co-written by Baron Cohen with Alec Berg, David Mandel, and Jeff Schaffer and is loosely based on Saddam Hussein's bestselling novel Zabibah and The King— really?)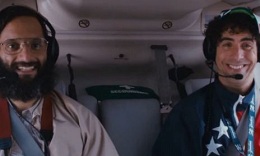 Even though the jokes in The Dictator don't hit as consistently as his previous films, they hit a lot. For every joke that lands with a thud, there are three howlers right around the corner. If you are wondering, by the way, whether Baron Cohen tops himself in the shock humor vein this time out, I would say that he has. Is there another comedian out there willing to mine jokes from such potential landmines as human rights abuses, global terrorism, and 9/11?
More than one scene had me laughing about it for minutes afterward and at least one had me putting my hands in front of my face in a half-hearted effort to block the screen. Word of warning: You can't unsee the baby-delivery scene in The Dictator. You just can't. I'm afraid it's scarred me.
The parody may be a little less focused than his previous movies, and the timing and rhythm of the film is a little off sometimes, but its fast-paced and often laugh-out-loud hilarious. Baron Cohen's best onscreen collaborator (in a movie full of celebrity cameos and small roles) is Jason Mantzoukas. The pair have a natural chemistry and Mantzoukas is best suited for keeping up with what must have been an improv-heavy shoot.
Aladeen's speech at the end of The Dictator is the funniest, wide-ranging political jab I've heard in a long time, and it makes me wish there were more of that—but I'll settle for an uneven film that's still full of side-splitting moments.