This review originally appeared in shorter form on KSNT-NBC, KTKA-ABC, and KTMJ-FOX, Kansas First News.
The Descendants is another nuanced look at the tragicomic world of the modern adult male from the man who brought us Election, About Schmidt, and Sideways.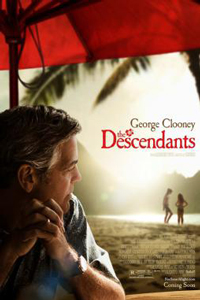 Writer/director Alexander Payne knows men like Matt King (George Clooney) well. A well-off father who is disconnected from his daughters, 10-year-old Scottie (Amara Miller) and 17-year-old Alex (Shailene Woodley), Matt is faced with the loss of his wife when a boating accident leaves her in a coma. That's not the only crisis that's coming to a boil, however. Matt is the trustee of a huge patch of unspoiled land in Hawaii and all of his relatives are looking to him to support their decision to sell the land and make a killing.
He is adapting another novel this time out as well, taking inspiration from a book by Kaui Hart Hemmings. What's so special about Payne's approach in The Descendants is how acutely observed and subtle the movie is, especially since the previews are selling it as a broader, more absurd comedy.
Alexander Payne excels at taking fundamentally flawed characters like Matt King, who has been on autopilot for a long time, and making them sympathetic and complicated. Another movie might play this plot as a straight-up tearjerker, but Payne gives us a father with bottled-up emotions and a lot of tough decisions to make.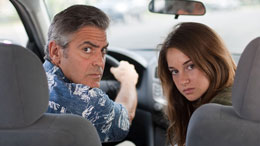 It's no wonder he turns to his teenage daughter for help and advice when he finds out his wife was cheating on him before her accident. It's when he follows that advice that the film turns to a more comic direction.
Certainly the addition of Alex's seemingly clueless boyfriend Sid (Nick Krause) tests Matt's patience, but Sid exists as more than a punchline or simple slapstick fodder. He is also imbued with more depth than expected, and its a slow realization for Matt that Sid might actually have the best handle on how to deal with an awful situation.
George Clooney is pitch-perfect here as well, walking an emotional tightrope the entire film, with rarely a moment to step back and take a survey of the landscape. His calibrated performance is all the more convincing when he finally gets a moment alone and is able to express the contradictions of his situation honestly.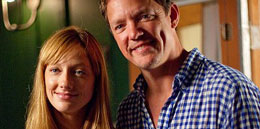 Towards the end of the film, The Descendants is forced to deal more directly with all its pent-up frustration and Judy Greer, as the wife of realtor cheeseball Matthew Lillard (another surprisingly measured performance), has a breakout moment of great surprise and truth.
Her scene is exemplary of the entire movie and Matt's life as it stands now: It looks like its going one way, but it starts to veer way out of control, and is reigned in at the last second with a kind of melancholy resignation. It's the kind of movie Alexander Payne makes best, and with The Descendants, he proves nobody else comes close in that department.