This review originally appeared in shorter form on KSNT-NBC, KTKA-ABC, and KTMJ-FOX, Kansas First News.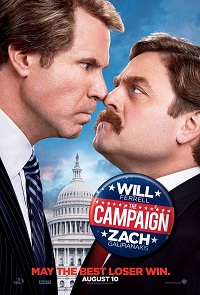 It's no secret that American politics is a dirty business and that politicians will say anything to get elected. So some of the bite of The Campaign is already lost by the time Will Ferrell and Zach Galifianakis start their ridiculous escalation of one upping each other in this raunchy satire.
Actually: Calling it a satire at all may be giving the scattershot film too much credit. Directed by Jay Roach, who helmed the Austin Powers movies and Meet the Parents as well as the made-for-cable political tales Recount and Game Change, The Campaign lacks conviction.
It's fine mocking the Koch brothers (in the most unfunny way possible — by calling them the Motch brothers and making them evil multinational corporate schemers) and pointing out the hypocrisy of politicians (especially ones that run on family values but cheat on their wives), but generally The Campaign plays it soft and safe.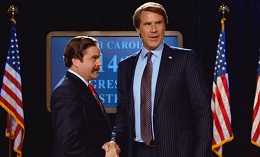 The funniest thing about it is that there's not one discussion or debate in the entire film about actual policy. Instead, its candidates say hollow things they think voters want to hear, such as Ferrell's slogan: "America, Jesus, Freedom." What's not funny is that The Campaign's script feels more like an outline of a movie than an actual movie.
Ferrell plays another in a long line of his familiar type, the over-confident buffoon—this one owing a lot to his famous George W. Bush impression—while Galifianakis plays another effeminate weirdo with a fanny pack, so neither actor is really stretching.
That would be okay, though, if the material they were given was little sharper.
The Campaign is a lazy satire filled with easy targets and a desperate amount of swearing—it's not enough to prop the film up for a mere 85-minute running time. The actors try to fill the void left by the script by improvising a good portion of the movie, and that's good for a solid laugh here and there, but as Galifianakis' character says throughout The Campaign, "It's a mess!"