This review originally appeared in shorter form on KSNT-NBC, KTKA-ABC, and KTMJ-FOX, Kansas First News.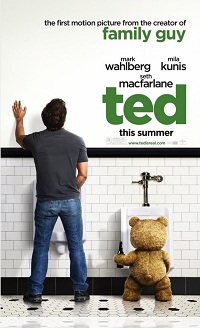 A little boy who wishes that his teddy bear could talk grows up and finds it's still talking—only now it's vulgar and has lots of bad habits, in a new comedy from the creator of Family Guy.
Seth MacFarlane writes, directs and voices the teddy bear come to life and Mark Wahlberg is the perpetual manchild with a heart of gold in Ted, an R-rated comedy that gets a little mileage out of its setup and then is offensively unfunny for most of its running time.
Ted is the definition of a lazy film, taking a fun premise and going nowhere interesting with it, choosing instead to be another movie about a 30-something guy with a severe case of arrested development and a girlfriend who nags at him to grow up.
This is very much the same kind of humor as Family Guy, only it doesn't work in live action. Note to MacFarlane: Non-sequitur pop culture references are not funny just because you bring them up. It's the context that turns them into jokes. In Ted, the context is absent and the timing is all off. MacFarlane should know by now that he can't edit a full-length movie like a 21-minute cartoon.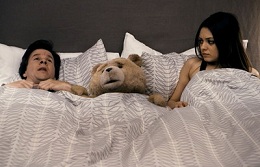 Wahlberg and co-star Mila Kunis are faintly charming and up for anything, but it isn't enough to save the movie. Poor Kunis is stuck with the thankless role of the girlfriend who isn't necessarily a bad person, but still wants to tear a friendship apart. In fact, she's so reasonable about things that the ending of the movie almost makes sense. No wait — it doesn't at all.
The one clever conceit in Ted is that by the time Wahlberg's grown up, the bear is a one-time celebrity who's had his 15 minutes back in 1986 and nobody cares about him anymore. Unfortunately it sets up the most tired part of the movie: Giovanni Ribisi is horribly wasted in a weird kidnapping plot that's never funny even though it tries desperately to be, despite the fact that it exists only for a predictable, insulting, and unearned third-act conflict.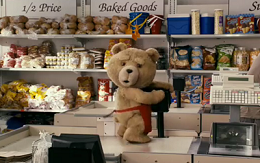 There are a couple funny scenes in Ted where MacFarlane's "voice" isn't  smothering everything. Wahlberg and his teddy bear bond over Flash Gordon and have a real connection to their childhood. There's another funny scene with little dialogue (one of the reasons its funny) when the the two have a physical confrontation in a hotel room.
But here's the thing: So much of the film's humor is mean-spirited, racist, homophobic, and misogynistic that it makes me wonder why I'm in the minority on this one. The theater I saw the film in was full, with lots of people laughing constantly. There's a serious cultural divide going on here. The press material from the movie studio calls MacFarlane's brand of humor "politically incorrect," but that's the politically correct way of saying its racist, homophobic, and misogynistic.
When Sacha Baron Cohen goes over the top with his brand of boundary-pushing offensive humor, it's because he's pointing out hypocrisy and how messed up the world can be. When MacFarlane goes over the top, he's just laughing at people for being who they are. There's a difference.