This review originally appeared in shorter form on KSNT-NBC, KTKA-ABC, and KTMJ-FOX, Kansas First News.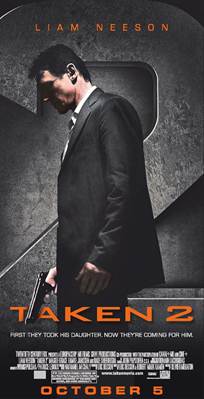 One year after her best friend died from a forced drug overdose at the hands of the men who kidnapped them both for an Albanian human trafficking ring in Taken, the biggest problem that Kim Mills (Maggie Grace) has is failing her driver's license test. That, and an overprotective father who tortured and killed scores of men to free her and is worried about her having a boyfriend.
Liam Neeson is back in Taken 2, which has no interest in the psychological state of Kim or her retired CIA agent father after the horrible events of the first movie. It takes place only one year later in the movies' timeline, yet it barely seems to register on their minds!
No, instead this bland and uninvolving action sequel (directed by Olivier Megaton) dispenses with the setup as quickly as possible to get Neeson's wife and daughter (Famke Janssen) to Istanbul, where they can be taken too. Fair enough.
No complicated plot to spoil here—the Albanian Mafia wants revenge.
But what's the first thing they do after kidnapping Neeson and his wife? Chain them up and leave, giving them ample time to escape, of course. It's one series of dumb and overly convenient action scenes after another for the better part of the movie.
That's the kind of logic we're dealing with in Taken 2, which fails critically even in the action department, thanks to lots of confusingly fast zooms and rapid-fire cuts, making it virtually impossible to tell who's hitting or shooting at who.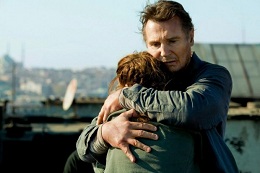 I'm all for implausible and efficient action movies, especially when they're big and ridiculous and having fun. But there's nothing to Taken 2, which is downbeat and deadly serious—except for one memorable car chase in the middle of the film.
Earlier this year Eurotrash action producer Luc Besson (who is responsible for Taken and Taken 2 but also has a handful of good movies under his belt as a director) produced the lame-brained Lockout, which tried in vain to have a Die Hard-style sense of humor, though, so this proves that he's inept on the serious and tongue-in-cheek sides of the action fence.
The best thing I can say about this movie is that at 90 minutes, Taken 2 is mercifully short.