This review appeared in shorter form on the Scene-Stealers Lawrence.com blog, and in a video review from KCTV5′s It's Your Morning.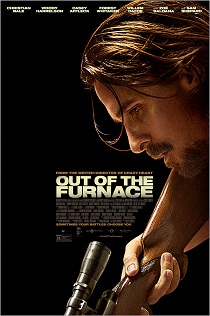 Usually its only in horror movies that you find yourself yelling at the screen: "Don't do that! Don't go in there!"
In the second half of the new Rust Belt crime drama Out of the Furnace, though, the plot machinations become pretty ridiculous. At first, I reacted just like I was in a bad horror flick, and then I realized I just didn't care anymore.
Out of the Furnace is one of those movies that spends so much time building mood and character that by the time the plot really kicks in, you realize it was in the service of nothing terribly special.
Christian Bale emanates a grizzled empathy, Woody Harrelson is at his menacing best and Casey Affleck brings to mind the stubborn frailty of Frank Sinatra in his Oscar-winning performance from "From Here to Eternity," but the movie is too earnest and painfully obvious for its own good.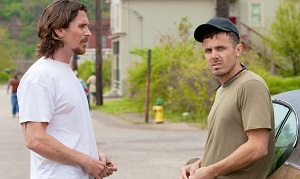 Bale and Affleck are brothers in an economically depressed steel-working Pennsylvania town who choose different paths to make their way. Each of them brings much-needed color to the well-worn clichés of the ex-con and war veteran trying to make good in tough times, but co-writer/director Scott Cooper (Crazy Town) musters zero surprises in a script that takes too long establishing a tired premise and plays it out in grimy, dull fashion.
Cooper's actors, meanwhile, invest his one-dimensional characters with a real sense of humanity. There are solid supporting turns from Willem Dafoe, Forest Whitaker, and Zoe Saldana, but Cooper doesn't trust his characters enough, and is too enamored with his own sordid backdrop of underground fighting rings and hair-trigger violence. A parallel editing sequence that pairs one of these fights with a deer hunt is just one example of the overworked themes of Out of the Furnace.
In the end, the movie feels too pat and has nothing new to say.