This review originally appeared in shorter form on KSNT-NBC, KTKA-ABC, and KTMJ-FOX, Kansas First News.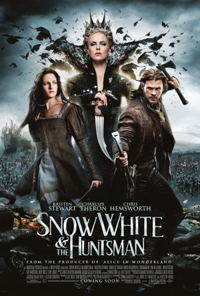 Kristen Stewart stars as Snow White and Charlize Theron is the Queen who talks to her mirror in a darker re-imagining of the classic tale.
The movie poster for Snow White and the Huntsman says "from the producer of Alice in Wonderland," which is really all you need to know about this dull and completely unnecessary remake.
Sure, the Brothers Grimm fairy tale existed long before Walt Disney made the classic animated Snow White and the Seven Dwarfs, but this movie only exists as a crass way for Hollywood to make money by updating a known story into a generic medieval setting with tons of meaningless action.
Charlize Theron is having lots of fun hamming it up as the evil Queen, but she's the only person with a spark in this entire film. Kristen Stewart is sleepwalking and radiates none of her character's legendary charm, which is made worse by the fact that everyone's always talking about how radiant she is.
Chris Hemsworth, better known now as Thor, is a muted huntsman, struggling to make the most of a screenplay from The Blind Side and The Alamo director John Lee Hancock, Drive adapter Hossein Amini, and Evan Daugherty. Hemsworth and his fellow actors really have nothing to do except stand by while make-up and CGI effects dominate the show because there is a complete lack of memorable lines and no sense of humor whatsoever.
The awful, self-serious and by-the-numbers script takes story staples like the mirror, the apple, and the kiss that brings Snow White back to life and throws them in randomly so there are things we recognize, but it's got no sense of forward movement at all.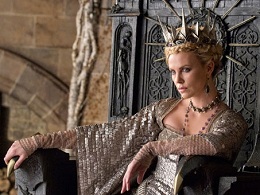 Once the seven dwarves appear, there's a brief moment of interest as veteran British actors' heads CGI'ed miraculously onto little people bodies breathe some life into the proceedings, but even then the novelty wears off. Essentially, that's what Snow White and the Huntsman is — a novelty.
First-time feature director Rupert Sanders creates a couple of visually inventive scenes, such as Snow White's surrealistic trip into the Dark Forest, but the pacing is lumpy and much of the movie is flat and uninspired.
At just over two hours, Snow White and the Huntsman drags and drags, until it eventually ends with Snow White leading troops on horseback in a castle raid, just like the Alice in Wonderland remake.
What's next, an R-rated violent fantasy about Dumbo the weaponized flying elephant?