Check out videos of all my movie reviews on KSNT-NBC, KTKA-ABC, and KTMJ-FOX, Kansas First News.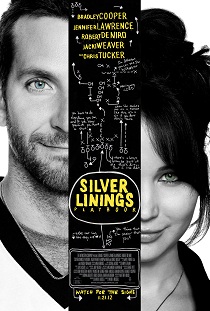 Bradley Cooper and Jennifer Lawrence star in the new quirky romantic comedy Silver Linings Playbook, which is getting lots of Oscar buzz. Especially since comedies are generally undervalued by awards voters, the attention is well deserved.
An undiagnosed bipolar man named Pat (an eye-opening Bradley Cooper) is released early from a mental institution with dreams of a quick rehabilitation and his life as he knew it will be back on track again. Nevermind the fact that he nearly beat a guy to death in a shower who was cheating with his wife.
Pat meets a young widowed woman named Tiffany (Jennifer Lawrence, showing some assured  comic chops) and he says the most blisteringly honest and insulting things to her. "I have no filter," he says. Yeah, we noticed.
It may not sound like the recipe for a great romantic comedy, but Silver Linings Playbook is that and more.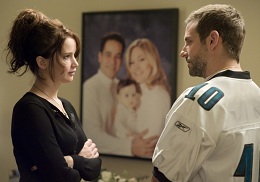 Bradley Cooper is all forced optimism—a guy with no inner monologue, just a manic outer one, and a dangerous temper that essentially took him out of the game, so to speak.
Jennifer Lawrence plays a strange mix of shame and confidence as she pursues him in her own passive-aggressive way. The actors inhabit their roles with such a ferocious energy that even when the plot veers into familiar territory, Silver Linings Playbook still works.
The movie itself is bipolar, full of mounting tension and hilarity like a classic screwball comedy, but it's all just barely skimming above a deep layer of darkness. Nobody has it figured out in this movie, least of all Pat's lost best friend (John Ortiz) and his demanding wife (Julia Stiles) — or his disturbed pal Danny (Chris Tucker), whose desire to be free trumps his ability to play by the rules.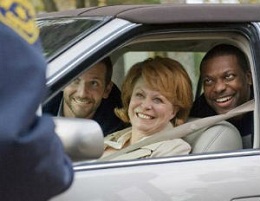 Robert De Niro turns in his best performance in years as Cooper's OCD bookmaking Dad, spotlighting not just his great comic timing, but also a quiet sadness. Jacki Weaver holds the fragile heart of the whole movie in her hands, and her effervescent smile masks a genuine worry that is only glimpsed. Again there is the darkness just beneath the surface.
At its core, Silver Linings Playbook is a story about acceptance, and the strained father-son relationship is one of many themes that writer/director David O. Russell has skillfully baked into the content without feeling forced.
Just as he did in his 1994 debut Spanking the Monkey and the more broad 1996 independent comedy Flirting With Disaster, Russell revels in the disintegration of the core family unit of yesteryear. One shot of Cooper and Lawrence facing off against each other with a pseudo-happy family portrait in the background pretty much sums up the whole picture.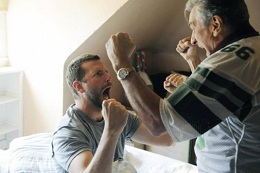 David O. Russell makes no apologies for the manic behavior of his characters, but rather looks at them with a empathetic eye, and that is a key reason Silver Linings Playbook works so effortlessly.
Silver Linings Playbook subscribes to a couple of romcom formulas towards the end, but the movie is never anything less than exhilarating, which is something that is missing from 99.9 percent of modern romcoms. Russell adapted the screenplay from Matthew Quick's novel and he has a terrific ear for smart dialogue and quick pacing, just like the best comedies of the classic era.
The only difference is that Silver Linings Playbook celebrates the fringes and makes you root for dysfunction.