This review originally appeared in shorter form on KSNT-NBC, KTKA-ABC, and KTMJ-FOX, Kansas First News.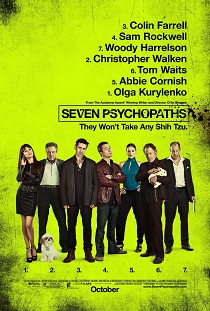 Seven Psychopaths is one of those comedies where a bunch of low-life criminals go around cracking wise and shooting people.
Or at least it seems to be some sort of "Tarantino-lite" movie, for a little while.
But once grade-A wacko Sam Rockwell starts rewriting his best buddy and struggling screenwriter Colin Farrell's script while Rockwell and his pal Christopher Walken kidnap dangerous gangster Woody Harrelson's beloved Shih tzu, Seven Psychopaths begins to go off the rails in the most glorious of ways.
It's not often that you can say in a comedy that you have no idea where it is headed plot-wise. Seven Psychopaths, written and directed by Martin McDonagh (who directed the surprise cult hit In Bruges), is impossible to pin down because it subverts your expectations constantly.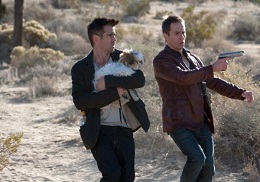 As Farrell considers his screenplay, it's tough to remember if you're seeing the screenplay come to life or an actual story from the world of the film. When the lines blur is when the movie is most thrillingly alive.
It doesn't matter which is which, though, because Seven Psychopaths isn't interested in complete narrative coherency, only with ridiculous flights of fancy and layering joke upon joke as McDonagh skewers the modern crime genre and just about every other action movie trope.
Thematically, however, the movie is sound. It even reaches poignancy after one bizarre plot twist dealing with one of the characters' lifelong companions.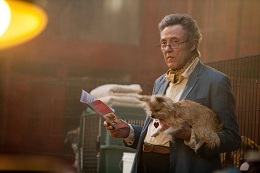 Rockwell and Walken are the standouts here, both riotously funny but in completely different ways. Rockwell is a manic mess, constantly running at the mouth and serving as some sort of stand-in for the tastes of the mainstream action crowd. Walken is his calm, reasoned counterpoint. He delivers deadpan line after deadpan line with the world-weariness of a man who's lived a life that would make most crime movie fans blush.
Together they make the funniest and most unlikely comedic pair of the year.