This review originally appeared in shorter form on KSNT-NBC, KTKA-ABC, and KTMJ-FOX, Kansas First News.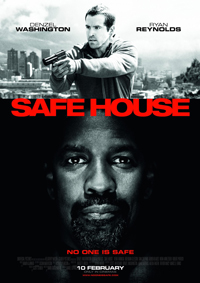 Safe House is a new action thriller starring Denzel Washington as a dangerous, high-priority prisoner and Ryan Reynolds as the inexperienced safe–house agent who must transport him.
Director Daniel Espinosa presents the film with lots of handheld shaky-cam work and uncomfortable close-ups to make it seem more realistic, which is good—because if you think too much about the plot, you may realize it's pretty silly stuff.
It's basically the same story outline as 3:10 to Yuma, where the captive develops a begrudging respect for the captor as they journey to a drop-off point. In this case, its South Africa and there are a ton of people on both sides of the law trying to capture Washington.
Only in Safe House, the characters are woefully underdeveloped, have way less interesting philosophical discussions about where they are coming from, and the movie doesn't work as a thriller either: You can see the multitude of double-crosses coming a mile away.
Washington is really coasting with this role. He doesn't have to do much besides look intimidating, which he's always good at, but it's a shame that he's not taking on more challenging stuff. Not to mention the fact that great actors like Brendan Gleeson, Vera Farmiga, and Sam Shepard are in Safe House mainly to point at video screens and shout out commands at CIA command.
On the other hand, Reynolds actually shines through, creating a palpable sense of fear as a nice guy who is way out of his depth but too stubborn to stop trying. And some of the action scenes may manage to quicken your pulse a bit. Other than that, Safe House is pretty disappointing, generic stuff.