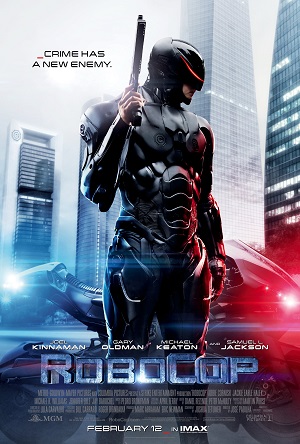 I'll admit it—the thought of Hollywood remaking a violent, scrappy, go-for-broke hard-R satire like Paul Verhoeven's 1987 classic RoboCop into a PG-13 movie really boiled my blood.
For those who haven't seen the original recently, I dare you to revisit it again. You may have forgotten how hateful and selfish most of its main characters were, and its prediction of a near-future crime-ridden and bankrupt Detroit was prescient as hell.
Over a quarter century later, the 2014 Robocop has arrived and I have to admit, I'm pleasantly surprised.
The satire is still there, albeit not as angry and way more obvious, and the targets have shifted ever so slightly to keep up with current events. Had the film been a carbon copy, though, there would have been no point in making it. So all things considered: The world wasn't begging for another Robocop, but now that it's here—why not?
José Padilha, a Brazilian director known for his Elite Squad movies, is behind the camera, so it's a wonder that the action scenes are the least successful part of RoboCop. Then again, corruption and crime is rampant in Rio as well, so the director (who co-wrote the remake's script with Joshua Zetumer) knows these themes well.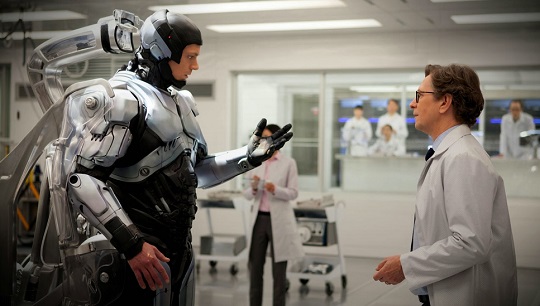 The fundamental crisis of good-guy Detroit cop Alex Murphy (Joel Kinnaman from AMC's "The Killing") has shifted. Instead of being brought back from the dead, plagued with memories of his human life like Peter Weller in the original, Murphy's life is saved by his wife's decision to turn him into RoboCop. This means he is cognizant of the changes his body has undergone, while his personality is intact. It's good news for Kinnaman because he has a wider range to play, and it gives OmniCorp CEO Raymond Sellars (Michael Keaton) and Dr. Dennett Norton (Gary Oldman) more opportunity to make this moral dilemma even messier.
The film's principal metaphor, a criticism of U.S. drone strikes overseas, couldn't be more obvious. An opening scene in Tehran has U.S. military machines "keeping the peace" by killing human beings that they regard as threats in a split second, but unable to make key judgment calls in the midst of chaos. In a clever twist, however, these machines are approved by the Senate to be used everywhere else in the world—except our own soil.
The political battle plays out with Samuel L. Jackson's blowhard TV commentator pushing for efficient robot killing machines on the streets, while OmniCorp figures out a way to get around a Senate ban with their half-human RoboCop. Jackson is perfectly cast to play a populist pundit whose arguments have been reduced to name-calling and profanity, and he gets some good jabs in at what passes for TV news these days.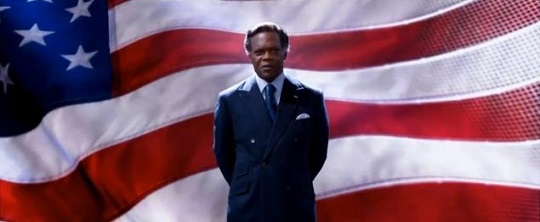 As I mentioned before, the action is a bit of a random jumble. Padilha shoots a couple of them like first-person shooter videogames—which is another comment I suppose—but mostly they are typical shaky-cam scenes. The upside is that RoboCop is more comfortable as a purely science-fiction concoction than an action film, and has a bigger heart than expected.
At just under two hours, RoboCop is a welcome anomaly in that it takes time to slow down and get its characters and story right. There's a lot of backstory—and stakes to be developed—before the plot can move forward with the right amount of weight. Oldman is particularly effective as a brilliant doctor who compromises his ethics and gets in over his head, while Kinnaman brings a sense of real tragedy to Murphy.
It may not have the subversive nutso attitude of Verhoeven's 1987 movie, but RoboCop has a couple of crazy surprises up its sleeve and a surprisingly engaging story that feels relevant today.
* Let it be also said that while 2014 "Robocop" is PG-13, it's still very violent, as that bar keeps getting raised each year.