Here's my TV review with clips of Riddick on KCTV5′s It's Your Morning, along with my print review, which originally appears on Lawrence.com: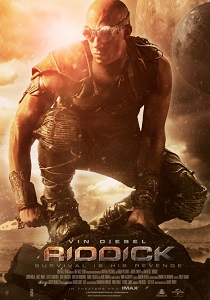 Universal's press notes for Riddick call the film the "latest chapter of the groundbreaking saga that began with 2000's hit sci-fi film Pitch Black and 2004's The Chronicles of Riddick.
Well at least they got the chronology right.
There is nothing remotely groundbreaking about any of the films in what I guess people are now calling the Riddick trilogy. Pitch Black is a fairly entertaining B-movie about a convict captured by a bounty hunter who crash lands on a dangerous planet filled with mysterious creatures. It doesn't aim very high, but it has enough thrills to keep it interesting.
With the $100 million sequel The Chronicles of Riddick, star Vin Diesel and director David Twohy tried elevating their tough-guy sci-fi character to an Indiana Jones franchise level, but it was weak in mythology and heavy with dumb plot holes. At least the 2004 film had a sense of humor.
Riddick trades in all the macho clichés that Diesel has become known for in the Fast & Furious movies, but it lacks the impressive action scenes that make the last two films in the FF franchise guilty pleasures.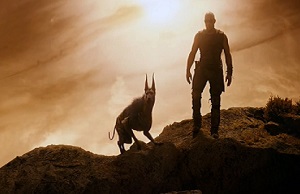 The new movie was shot in 48 days on a $35 million to $40 million budget and it looks like it. The first half hour of Riddick is incredibly dull, featuring the taciturn anti-hero doing some sort of alien-world Cast Away with a spattering of Riddick's swaggering tough-guy narration. You know you're in trouble when the CGI beasties that populate your green-screened landscape have a wider range of expression than your main character. At least one of these animals—a hyena-like wildcat that Riddick domesticates — exists only to squeeze out some completely unearned sentiment from the audience later in the story.
Soon, two groups of bounty hunters (each with their own brand of macho schtick) show up to collect Riddick, and the movie settles into a predictable redux of Pitch Black, with just enough nudity and violence to earn its R rating.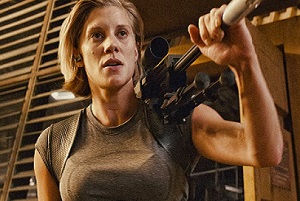 I admire Twohy and Diesel for jettisoning the equal parts silly and epic sci-fi spectacle they were going for in Chronicles and returning to the simple thrills of Riddick's stealthy brand of combat, but this is a formula that hasn't aged well.
The "humor" is almost non-existent, and when it does creep in, its tired and sometimes downright offensive, like the constant put-downs of Katee Sackhoff's lesbian soldier character. Apparently, Riddick is not only the predator who makes men mess their pants, he also thinks he's badass enough to turn gay women straight.
Besides its reliance on tough-guy clichés so worn out that Arnold Schwarzenegger would have thrown them out, Riddick also has very little forward movement, which is not a good thing for a movie that lasts two long hours.