This review originally appeared in shorter form on KSNT-NBC, KTKA-ABC, and KTMJ-FOX, Kansas First News.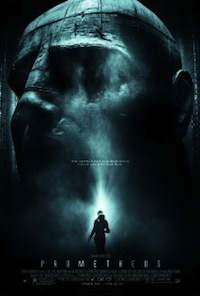 The most anticipated sci-fi movie of the summer hits theaters today with the film studio keeping its plot under a shroud of secrecy.
Although director Ridley Scott is being coy about his new movie's relationship to his classic 1979 sci-fi horror picture Alien, I am here to tell you that Prometheus takes place in the same universe some years earlier.
Co-written by Lost's Damon Lindelhof, Prometheus uses some unexplained beings and abandoned spaceships from the original Alien as a jumping off point. If you are familiar with the term "space jockey," you're probably a big Alien fan, and you're ready to find out—after 33 years— exactly what that is. If your expectations are not so lofty, Prometheus might work a little better for you.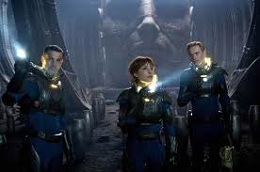 A crew of scientists (including Noomi Rapace, the Swedish Girl With the Dragon Tattoo) are sponsored by the same corporation that employed Sigourney Weaver and her crew of space miners.  A theory leads them to a distant moon to discover the key to the history of humans on Earth. Because this is a contemporary big-budgeted movie, there's not as much silence or as much left to the imagination in Prometheus as there was in Alien.
The art direction updates the cold, sinister look of Alien perfectly and the cinematography is beautiful, but actors like Charlize Theron and Michael Fassbender, who turn in fine performances, sometimes have to deliver dialogue that's pretty clunky and obvious.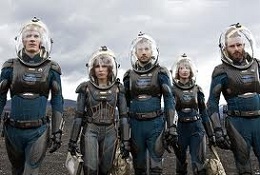 The bigger-picture story is intriguing, however, and the mystery develops skillfully while Scott ratchets up some familiar Alien horror scares. The ending feels unsatisfying mostly because it seems to exist solely to save more mystery for a sequel.
Still, Prometheus is an adult sci-fi film about ancient Greek myths (check the legend of Prometheus to understand what happens when Gods meddle with human affairs) and the origin of human life on Earth. It's the kind of big-idea movie you don't get much of in the summer, and it's a welcome sight.