This review originally appeared in shorter form on KSNT-NBC, KTKA-ABC, and KTMJ-FOX, Kansas First News.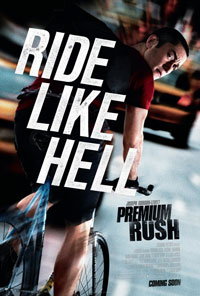 Joseph Gordon-Levitt, who had prominent supporting roles in The Dark Knight Rises and Inception, takes the lead in a new action movie with a considerably smaller budget.
Premium Rush is a throwback to the 80s in more ways than one. Like the 1986 Kevin Bacon Quicksilver, it revolves around a New York City bike messenger who gets his thrills dodging traffic. Also, like a lot of 80s flicks, its breezy fun, even if it's a bit inconsistent.
Joseph Gordon-Levitt plays Wilee, who takes pride in not having a suit-and-tie desk job. He's happy risking his life every day ignoring traffic laws on the busy streets. In addition to a dumb rivalry with another messenger, Wilee's also got a dirty cop, played by Michael Shannon, chasing him down to steal his latest delivery.
Premium Rush is co-written and directed by Hollywood staple David Koepp, who wrote Jurassic Park and Spider-Man. (Koepp also directed Ghost Town, a very underrated film.) He knows how to build suspense and intersperse the requisite amount of humor to keep things interesting.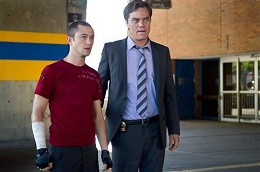 It could be considered the Top Gun of bike messenger films, because, like the rebellious fighter pilots of that iconic movie, Premium Rush glorifies a specific societal subset — they have their own subculture and even hang out at a bike messenger bar. Bike messengers get off on how dangerous their work is. They take pride in being faster than everyone else, and treat every delivery as a personal challenge. Of course, the reckless Wilee is the best of the best. Sound familiar?
The movie is at its best during exciting action scenes while Wilee's on the run and during the twisty backstory of his valuable envelope. Once its contents are revealed, it's a bit heavy-handed, but when the film isn't taking itself seriously, it's easy to overlook big coincidences and plot holes—especially when Michael Shannon is onscreen.
Shannon's villain is a hoot — all jerky movements and random outbursts. Like Jeffrey Jones in Ferris Bueller's Day Off, this imploding bad guy is somewhat of a threat, but mostly exists to highlight how together our hero is. Shannon gives his run-of-the-mill dialogue an unusually campy kick and singlehandedly keeps Premium Rush entertaining when it could have been routine.