This review originally appeared in shorter form on KSNT-NBC, KTKA-ABC, and KTMJ-FOX, Kansas First News.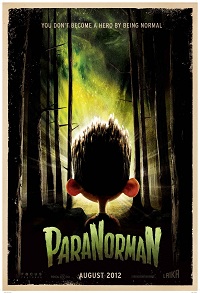 On the surface, ParaNorman is an animated kids' film filled with zombies, ghosts, and clever references to horror movies. But there's a lot more going on in the movie than your average talking-animal children's fare. It's aimed at a slightly older audience, and its amazing stop-motion animation makes for some pretty scary moments.
Essentially, though, ParaNorman, directed by Chris Butler and Sam Fell, is a fable about intolerance and the dangers of fear, although the film is a little too on the nose about it. Norman (voiced by Kodi Smit-McPhee) is a misunderstood boy, and any kid who's ever been picked on will totally relate. The supernatural elements are woven in seamlessly as Norman wakes up to the real reason he's plagued by ghosts, realizing he's the only one who can stop a zombie attack and lift a witch's curse.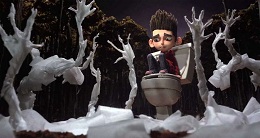 ParaNorman has some of the silly slapstick you've come to expect in animated family films, but the entire movie also has a decidedly cooler, more melancholy vibe. Rather than hit you over the head with a nonstop barrage of motion and sight gags — which seems to be the norm these days for kids' movies — it unfolds a little slower.
If ParaNorman stumbles a bit, it's during an ending where the movie over-explains its themes, but that ending is also surprisingly emotional — and the multimedia animation technique and subtle use of 3D are pretty remarkable.
Laika is the same animation studio that made "Coraline," and like that movie, Laika's ParaNorman is a breath of fresh air, proving that there's a lot of joy to be found in the darkness.