This review originally appeared on KSNT-NBC, KTKA-ABC, and KTMJ-FOX,Kansas First News.
Man oh man, is this movie stupid.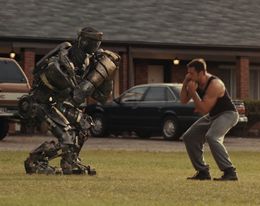 Now—it's not like I expected anything different. I mean, "Real Steel" is basically Rock 'Em Sock 'Em Robots crossed with Sylvester Stallone's arm wrestling movie "Over the Top," crossed with, well, "Rocky." But even with my sense of humor firmly intact, I'm not sure that I've seen a more crassly manipulative movie this year.
Hugh Jackman plays the worst deadbeat Dad ever—a man who sells the rights to raise his son, puts the kid into the most dangerous situations ever, and then is magically forgiven through the power of redemptive robot fighting.
The movie is supposed to be about his little boy gaining confidence and fighting against all odds. I say "supposed to be" because that's what all the inspiring music cues and scenes of people crying tears of joy are telling me. But it's not.
"Real Steel" is as cold and calculating as movies get. It's a glossy, soulless piece of junk that wants you to cheer along, but it doesn't earn one ounce of real anything.
That said, the CGI robots are pretty cool.