The germ of the idea for "30 Minutes or Less" may have come from a tragic true story of a pizza delivery driver forced to rob a bank with a bomb strapped to his chest, but this raunchy new comedy isn't going for realism.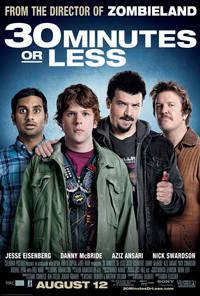 In fact, it's quite the opposite. This is big, broad humor being squeezed out of ridiculous situations, and has a lot in common with last month's hit "Horrible Bosses."
Jesse Eisenberg, a Best Actor nominee earlier this year for "The Social Network," is the only person in the movie who even comes close to being believable, but that almost doesn't matter because the movie is consistently funny.
Danny McBride and Nick Swardson are two dim-witted buddies who force the downtrodden Eisenberg to rob a bank—or they'll blow him up. The side effect is that the delivery boy discovers a courage he never knew he had and it all leads up to a hilarious and manic final scene.
Aziz Ansari is funny as Eisenberg's talkative best friend, but he seems so outside of the action that sometimes it's at the expense of the tension. It may not be a nonstop laugh riot, but "30 Minutes or Less" gets it right most of the time.