This review originally appeared on KSNT-NBC, KTKA-ABC, and KTMJ-FOX, Kansas First News.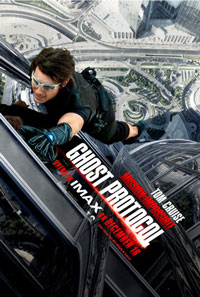 Tom Cruise is back as superspy Ethan Hunt in the fourth installment of the Mission: Impossible series. It's been five years since the last movie in this over-the-top, action-packed series and even though the third installment had the most emotional investment and the best villain, Mission: Impossible – Ghost Protocol succeeds in dishing up exactly what you would expect: State of the arts stunts, non-stop action, and a series of clearly laid-out heists and chases that go awry in all kinds of creative ways.
Brad Bird, the director of Ratatouille and The Incredibles tackles his first live-action movie here and proves that he has the chops to create real suspense and spectacular action that is easy to follow. There's none of that shaky-cam nonsense of the Bourne movies going on here.
There's a skeleton of a story supporting the action scenes, but Bird strings it along nicely in tandem with the action. He also raises the stakes in each scene and avoids overdoing the plot twists, which is shrewd. Throw in a nice dash of humor courtesy of Simon Pegg, and Mission: Impossible 4 delivers the improbably dangerous goods you want from a movie like this.
Make sure the theater has this one cranked up loud. And if you can see it in IMAX, even better.
Here's Scene-Stealers contributor Aaron Weber's take on Mission: Impossible – Ghost Protocol.