This review originally appeared in shorter form on KSNT-NBC, KTKA-ABC, and KTMJ-FOX, Kansas First News.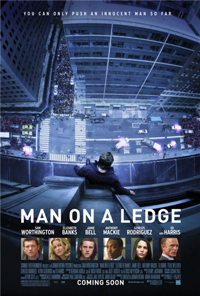 At least Man on a Ledge opens with an attention-grabbing moment: Escaped convict and former police officer Sam Worthington is out on a hotel ledge threatening to jump. We flash back to his prison break (which is staged excitingly) and learn that the reason he's out there is to prove that he was framed.
So far, so good.
He asks for recently disgraced NYPD negotiator Elizabeth Banks specifically, which is another first clue that he may be up to something more than suicide, and the two thrust and parry verbally.
(Will that turn into something more non-verbal? If you haven't guessed that yet, than you haven't seen many by-the-books Hollywood thrillers.)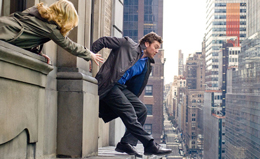 Worthington tries only to reveal as little of his motives as needs to at any given moment while Banks tries to lure him down. Credit should be given to director Asger Leth, who stages the out-on-a-ledge scenes with a fair amount of tension. (Banks and Worthington, to their credit, were actually out on that ledge, high above Manhattan.)
But just as the film should be picking up steam, it grinds to a deadly halt. This promising premise is sabotaged for the next hour by a silly script that might soon have Republican presidential candidates screaming about its blatant "class warfare."
You see, blue-collar Sam Worthington is trying to get even with an evil millionaire—played by Ed Harris, who — to his credit — realizes how ridiculous this all is and hams it up pretty big.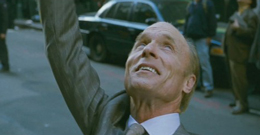 Meanwhile, Worthington's brother (Jamie Bell) and his model-hot wife (Génesis Rodríguez, who slips in and out of two sets of skin-tight clothes for no other reason than, well, to be seen in her underwear) joke around that they don't know what they're doing during a heist across the street, but they somehow manage to outwit a state-of-the-art security system.
If the film had more clever dialogue between Sam Worthington and Elizabeth Banks (in a relationship with a little chemistry that grows into mutual respect and then some) and a more developed subplot between Worthington and his ex-partner Anthony Mackie, it might have been more watchable.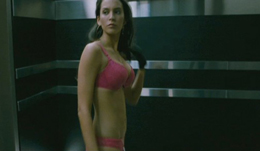 But the cross-cutting between this third-rate Mission: Impossible heist and Harris' mugging turn Man on a Ledge into a movie that could only be appreciated on a campy level. (The cliché-ridden script was written by Pablo Fenjves, who was the ghost-writer of O.J. Simpson's book "If I Did It.")
Man on a Ledge is so tired and hackneyed and straight out of a bad 80s TV show that there's even scene where one of them has to disable a timer with seconds left and Worthington is yelling "Don't cut the red wire"!
If that's not bad enough, the underwhelming ending (that is supposed to be triumphant but feels like still more pandering) might be enough to make you want to jump.