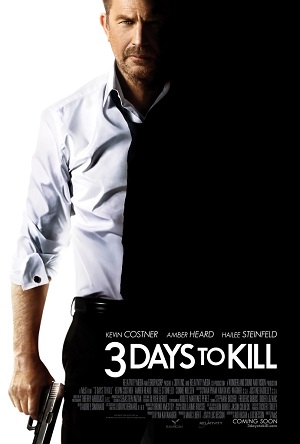 This review appears in slightly different form at Lawrence.com.
Video clip from KCTV5 It's Your Morning.
I guess the best thing you can say about the new action movie 3 Days to Kill, starring Kevin Costner as a grizzled old CIA hitman living in Paris, is that the 59-year-old actor has more charm and better comic timing than Bruce Willis has recently.
Costner is essentially playing the same over-the-hill, reluctant-but-badass gun-toting hero that Willis has been playing for years, and in 3 Days to Kill, he's even saddled with something more challenging than killing bad guys with names like The Albino and The Wolf — keeping a teenage daughter out of trouble.
And despite a ludicrous plot and abrupt tonal shifts, Costner actually makes it work sometimes.
Speaking of plot, get a load of this: Costner's retired agent finds out he has terminal brain cancer, so he reunites with his estranged daughter (Hailee Steinfeld) and wife (Connie Nielsen) to make amends. But he agrees to stay on the job when a sexy young agent from America who just walked out of a Marilyn Manson video (Amber Heard) offers him a comically oversized syringe in a foam-lined briefcase.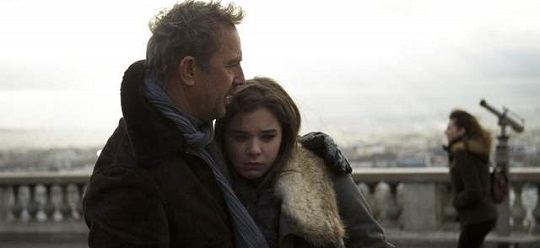 You see, this unnamed "experimental drug" will somehow extend his life, while also racking his mind with crippling hallucinogenic headaches at the most inopportune moments. <– That part is a cheap way to create suspense when it kicks in so that the "unstopppable hitman" gets weak and stumbles just before closing in on the kill.
It's easier to accept ridiculous plots like this when the ride itself is entertaining and distracting enough, but 3 Days to Kill, directed by the slick and hollow McG (the guy who killed the Terminator franchise and made the worst movie of 2012, This Means War), grinds to a halt every time Costner isn't onscreen.
Heard in particular has grossly miscalculated her dead-serious portrayal of the red-lipsticked, stiletto-heeled handler in a role that could have been light and fun, but instead is laughable in all the wrong ways. Marc Andreoni, on the other hand, is right on the money as an underworld limo service owner who gives Costner fatherly advice when he's not being thrown in the trunk of his car. He understands what kind of a movie he's in and plays it broadly every time he's onscreen.
Producer/writer Luc Besson's French production company EuropaCorp has consistently demonstrated for more than a decade that they know how to churn out formulaic, mid-size budget action movies shot in Europe. 3 Days to Kill is in the Taken mold for sure, but with a sillier dash of humor a la Besson's recent mob-family-undercover misfire The Family. It's a decidedly mediocre effort, with exactly one memorable action scene, and when it pushes too hard into sentimental territory, it feels completely unearned.
Let's hope for Costner's sake (who recently had high-profile comeback-style supporting turns in Man of Steel and Jack Ryan: Shadow Recruit) that better material is on the horizon.