Here's my TV review with clips of Star Trek Into Darkness with Dave Hall on KCTV5′s It's Your Morning.
This is the print review as it appeared originally on Lawrence.com: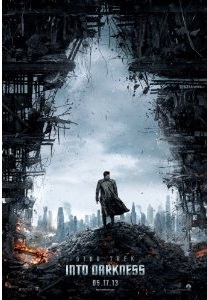 In 2009, director J.J. Abrams breathed new life in to Star Trek, a reboot of a film series which, after the disastrous Next Generation movie Star Trek: Nemesis seven years earlier, had become a stale and bloated parody of itself. It's always easier to try new things when you are re-inventing an origin story, so Abrams' Star Trek gave Captain Kirk (Chris Pine) a snotty modern makeover and added way more action than Trek movies usually get.
The voyages of the Starship Enterprise were successfully relaunched and a familiar crew (including Zachary Quinto's Spock) was installed on the ship. The question before Abrams and his loyal band of writers Roberto Orci, Alex Kurtzman, and Damon Lindelof then became: Do we boldly go where no man has gone before?
From a plot standpoint, the answer is a resounding no, but that doesn't mean that "Star Trek Into Darkness" is a boring retread of past storylines. It's a tremendously energetic, thrilling mash-up of past storylines.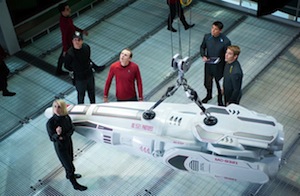 Yes, there are the same winks and nods to iconic Star Trek moments that Abrams' first outing at the helm of this ship had, and, yes, there are plenty of flashy lens flares and jokey one-liners from Dr. McCoy (Karl Urban). But Abrams has grown into a confident cinematic storyteller, capable of setting high stakes, staging impossible situations, and having his characters get out of them, one after another, with a combination of exciting action and just enough of their intellect.
If anything, "Star Trek Into Darkness" is Abrams doing his version of an Indiana Jones movie. An acolyte of George Lucas and Steven Spielberg (and who has recently landed the most thankless job in all of Hollywood: taking over Disney's first Star Wars movie), Abrams knows how to wrench pure entertainment from serial-like action, while keeping a healthy dash of humor front and center. He also has composer Michael Giacchino doing an effective job of making John Williams cry.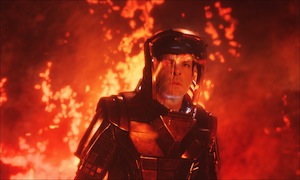 Impressive CGI art direction, a truly menacing villain (the great Benedict Cumberbatch), and a keen sense of pacing make Star Trek Into Darkness an easy movie to get swept up in. Abrams is counting on that, because he is treading familiar waters plot-wise. Because it still revolves around the fundamental difference in philosophy of Kirk and Spock, however, Star Trek Into Darkness feels like a Star Trek movie.
It's almost as if Abrams and company knew this would probably be their last outing in the series, so they threw in everything they could think of.
It makes for one hell of a ride, and I wouldn't want to be the guy that has to follow it up.