Here's my TV review with clips of Man of Steel and This is the End with Alexis del Cid on KCTV5′s It's Your Morning.
Check out Scene-Stealers Movie Podcast #95, where we discuss these films and more.
Also, here is my Scene-Stealers full-length print review of This is the End, and my capsule review of Man of Steel from Lawrence.com follows: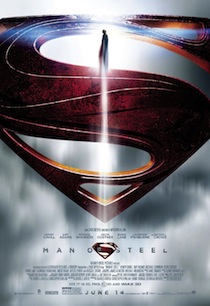 Director Zack Snyder re-imagines DC Comics' Superman with producer Christopher Nolan with an emphasis on his tortured soul, but a script that can't stay consistent. As commanding as he is as Jor-El from Krypton, there's too much of Russell Crowe flying around on a giant lizard and barking platitudes before the movie kicks into gear.
And as effective as he is, Kevin Costner's Pa Kent spends his entire portion of the movie giving advice that Clark Kent (a brooding Henry Cavill) will eventually ignore in one of the many super-sized fight scenes during the film's last hour.
Snyder and screenwriter David S. Goyer obviously took the criticism that Bryan Singer's Superman Returns received about not having enough action to heart, because almost every plot point in Man of Steel happens during an action scene. That, a complete lack of humor, and Hans Zimmer's overbearing score, make Man of Steel a bludgeoning experience.
As long as they perform well at the box office, superhero movies are here to stay. But the stories they tell of these noble, misunderstood heroes are so strikingly similar that they can be draining. It's a cumulative effect.
Iron Man 3 played with the template enough, had terrific chemistry, and a good amount of distracting humor. Man of Steel, however, is like The Dark Knight trilogy drained of all its moral complexity and vibrant storytelling. What's left is an oppressive movie filled with a blaring seriousness, inconsistent production design, mundane conflict, heavy exposition and a huge amount of super-destructive action that leads to nothing.