This review originally appeared on KTKA-TV and KSNT-TV, Kansas First News.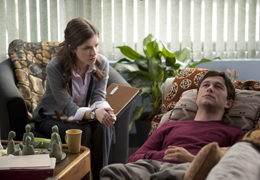 In "50/50," Seth Rogen plays the best friend of Joseph Gordon-Levitt, a 27-year old man who is diagnosed with cancer. The film's title is named after his chances of survival, but—as you may be able to guess from the cast—this isn't "Terms of Endearment."
Rogen works his usual boorish charm, existing mainly to keep his buddy in a good mood while he pokes fun at the absurdities of his friend's situation in the rudest ways possible.
Anna Kendrick, on the other hand, plays a newbie therapist who tries to help the clinical way, but doesn't really know how yet. She and Gordon-Levitt have the best chemistry in the movie, and even though their fate seems a little predestined, it works largely because of the actors.
One subplot involving a heartless girlfriend may seem unnecessarily cruel, but when the stakes are raised after a diagnosis like this, it's oddly believable. It's refreshing to see a movie that embraces the ugly side of what happens to complicated personal relationships as well.
In fact, "50/50" is quite uncomfortable at times, and the frank exploration of the cancer patient journey makes the comedy even funnier.