This review originally appeared on KTKA-TV and KSNT-TV, Kansas First News. An expanded review appears below.
Here's a scary fact about how easily disease can spread: The average person touches their face 3,000 times in a day.
If the new global pandemic thriller "Contagion" was directed by anybody else, it would have had an enormous budget and half the film would have been big disaster-movie style action scenes. Someone like Micheal Bay would feature huge crane shots of massive destruction while people run screaming in the streets and it would take over the entire film.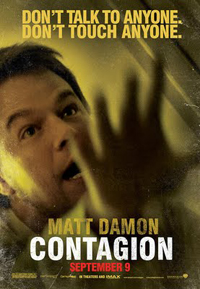 But it was directed by Steven Soderbergh, the man who mixes smaller, experimental films in with his slick blockbuster material (like the "Ocean's" trilogy). In keeping with the less-is-more aesthetic, Soderbergh also shot the movie himself.
So even though it takes place all over the globe, "Contagion" is an intimate film about the personal and ethical struggles of the professionals at the Center for Disease Control and Prevention in Atlanta and the World Heath Organization who are tasked with identifying and stopping a deadly virus. Marion Cotillard, Lawrence Fishburne, Kate Winslet, and a host of others work tirelessly against the clock, but are also forced to examine their own lives when ethical dilemmas rear their head.
Soderbergh and screenwriter Scott Z. Burns do an excellent job of juggling multiple storylines and also the bigger picture. The death toll of the virus is mentioned several times, glimpsed a few less, and made impactful through the struggles of the film's characters.
Jude Law's anti-government blogger makes waves and gathers a massive online audience by disseminating "unfiltered" information and taking on the CDC. He portrays the kind of self-righteousness that makes a true zealot well, but the fact that this facade is never dropped is a small weakness of his subplot.
Matt Damon quietly and effectively commands every scene he is in. Determined and caring, his story has the biggest emotional payoff as tries to save his last remaining family member from the disease. Gwenyth Paltrow has a small, but pivotal role — and casting a star of her caliber makes the film all the more frightening.
"Contagion" is fast-paced and efficient, mixing many different stories into one narrative, like Soderbergh's drug war film "Traffic" did in 2000. It's also very effective, mixing science and timely issues into one terrifically compelling drama. Soderbergh had all kinds of science advisors on set to make sure the movie was as realistic as possible (to go with his docudrama filming style) and it shows. Without pulling out many of the melodramatic tricks he easily could have relied on, "Contagion" still packs a punch.
It's also the first movie I've ever seen that had every member of the audience suddenly self-aware about how many times they were touching their face.